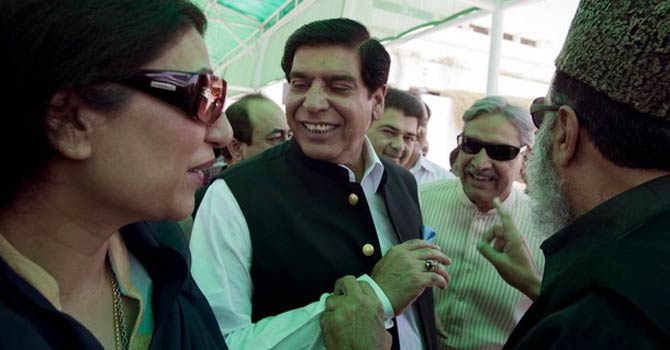 IPrime Minister Raja Pervaiz Ashraf—AP Photo
KABUL: Prime Minister Raja Pervez Ashraf left here Thursday for Kabul to meet Afghan President Hamid Karzai and participate in the trilateral summit, also to be attended by British Prime Minister David Cameron.
The Prime Minister who is visiting Kabul on a day-long official visit, was accompanied by Foreign Minister Hina Rabbani Khar, Advisor to the PM on Interior Rehman Malik and Minister of State for Commerce Abbas Ahmed Afridi.
PM Ashraf said long term peace in Afghanistan was only possible through an intra-Afghan political settlement that includes all Afghan stakeholders.
Talking to the leaders of leading opposition coalition of Afghanistan National Front (ANF) here at the Pakistan embassy, he said that Pakistan has friendly ties with the leadership of ANF.
The leaders of the ANF comprised Ahmad Zia Masood, Ustad Mohammad Mohaqiq and Faizullah Zaki.
The PM Ashraf said that Pakistan attaches great importance to its friendly relations with all Afghan ethnic groups and leaders. He said Pakistan would like these strong bonds to further strengthen.
"We want to work closely with Tajik, Hazara and Uzbek leaders to strengthen our relations with these communities for stability in Afghanistan," he added.
The Prime Minister acknowledged the role of ANF in Afghanistan and its efforts for long term stability and progress of their country.
Before leaving for Kabul, Prime Minister Ashraf said his first visit to the "brotherly" neighbouring country Afghanistan on the invitation of President Karzai would help strengthen relations between both the countries.
PM  Ashraf said the agenda of his visit to Afghanistan is focused on bilateral ties, political stability in Afghanistan and efforts to counter terrorism in Pakistan and Afghanistan.
Answering a question on trilateral summit, Prime Minister Ashraf said he would also discuss important issues with Prime Minister Cameron including measures to check terrorism and extremism in the region.
He termed the visit "very important" in the current circumstances and hoped for a positive outcome.
He said Pakistan as a frontline state had rendered enormous sacrifices to ensure peace in the region.
He also said Pakistan was not only fighting its own war but was also contributing for the sake of global peace. He said the forbearance and persistence of the Pakistani nation was exemplary and added that the sacrifices must be acknowledged by the international community.