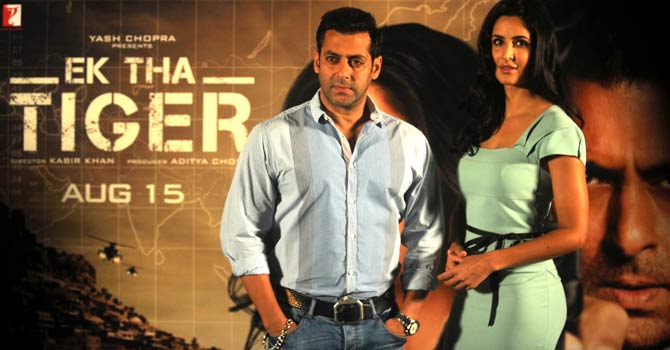 Salman Khan and Katrina Kaif attend a promotional event for their forthcoming film "Ek Tha Tiger" in Mumbai. – Photo by AFP
KARACHI: Officials of Pakistan's media watchdog have said the airing of an upcoming Indian film is subject to an approval from the censor board.
Officials of Pakistan Electronic Media Regulatory Authority (Pemra) have said they never sent a letter to stop airing Salman Khan's upcoming film "Ek Tha Tiger," which highlights Pakistan's spy agency, a report in Times of India said on Tuesday. However, the film's release in Pakistan remains subject to the Central Board of Film Censor's approval.
"We have not issued any letter to any cable operator regarding this movie. We issue letters to cable operators through broader instruction. It is in our law that no drama/cartoon movies can be aired against the sovereignty of the country," Pemra General Manager Fakhruddin Mughal was quoted as saying by the report.
Pemra's statement was backed by owner of Karachi's Atrium Cinemas, Nadeem H. Mandviwalla, who insisted that until the content of the film is known, there can be no ban placed on showing the film in Pakistani cinemas.
"It has not been banned, neither has the government said anything about banning it. It is a reservation and that will be cleared when the film comes out," Mandviwalla told TOI.
Earlier this year, Saif Ali Khan starrer "Agent Vinod," which was critical of the spy agency ISI, was also banned from being released in Pakistan. Cinema owners say they will abide by whatever policy the government decides on regarding the release of "Ek Tha Tiger" in Pakistan.