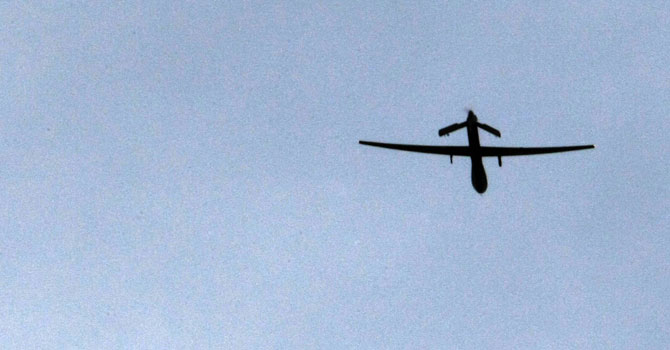 A US "Predator" drone passes overhead at a forward operating base near Kandahar. — Photo by AFP/File
MIRAMSHAH: Two separate US drone attacks killed at least nine militants in Pakistan's northwestern tribal region near the Afghan border Monday, security officials said.
Both attacks took place near Miramshah, the main town of North Waziristan, a known stronghold of Taliban and al Qaeda linked militants.
The first, in the early hours of the morning, targeted a militant compound in Hassokhel town, 25 kilometres (16 miles) east of Miramshah, killing at least five militants, security officials said.
The second attack targeted a militant vehicle in Datta Khel district, 30 kilometres (18 miles) west of Miramshah, killing four militants, a security official told AFP.
"The drone fired two missiles on a vehicle. The vehicle caught fire and the bodies of the people inside were badly burnt," he said.
Two military officials confirmed the casualties.
There have now been five such attacks in the area since Thursday, in an apparent surge in covert strikes following a Nato leaders' conference on Afghanistan in Chicago last week.