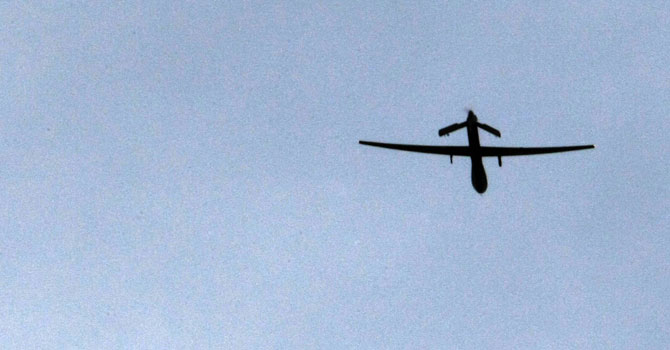 A US "Predator" drone passes overhead at a forward operating base near Kandahar. — Photo by AFP/File
ISLAMABAD: The Foreign Office on Monday said that US drone attacks in Pakistan's North Waziristan tribal region were a violation of the country's sovereignty, DawnNews reported.
A statement issued by the Foreign Office said drone attacks violated international laws and Pakistan's territorial integrity.
The statement moreover said that the attacks were an obstacle to the normalisation of diplomatic, political and strategic ties between Pakistan and the United States.
The statement followed a drone strike on Saturday morning in North Waziristan which killed at least 10 people.
It was the second strike since the parliament in March approved new guidelines on relations with the US, which included a call for an end to drone attacks on Pakistani territory.
Pakistan says the drone strikes are counter productive and undermine government efforts to separate tribes from militants, violate Pakistan's sovereignty, kill civilians and fuel anti-US sentiment.
Pakistan raised the issue with Marc Grossman, the US special representative for Afghanistan and Pakistan, when he visited Islamabad last month amid efforts to mend fractured relations.
The uneasy allies are currently taking tentative steps to repair a serious crisis in relations over last year's covert American raid that killed Osama bin Laden and US air strikes that killed 24 Pakistani soldiers.