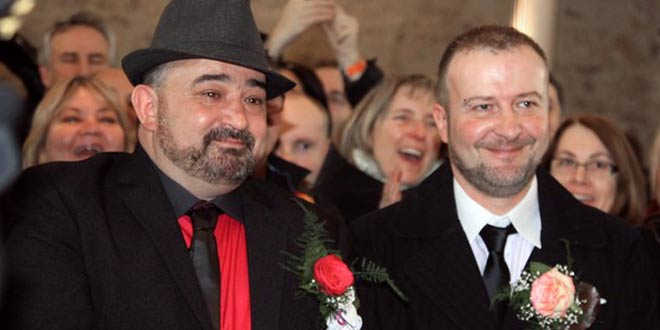 TAIPEI: Nearly 20 per cent of homosexuals in Taiwan have attempted suicide due to discrimination, a survey showed on Tuesday, dealing a blow to the island's reputation as a liberal haven for gays.
About 30 per cent have considered taking their own lives, and of these 18 per cent have actually tried to kill themselves, according to the survey sponsored by Gender/Sexuality Rights Association of Taiwan and other groups.
"Taiwan is not that open towards homosexuality," said Wang Ping, secretary general of the association.
Taiwan is the host of Asia's biggest gay pride parade, attracting tens of thousands every year, and last August saw a mass same-sex wedding, but the new survey suggests homophobic attitudes still linger.
Fifty-eight per cent of the 2,785 gay, lesbian and bisexual people who were interviewed for the survey earlier this month said they had been targets of verbal harassment, physical violence and sexual abuse.
Most of the attempted suicides occurred during adolescence, as did the majority of the reported instances of harassment, indicating a lack of education about homosexuality at schools, said Wang.
"The campus can be very unfriendly. It's common that gay students are excluded and ridiculed so they feel lonely and under stress," she said.
Last year, Taiwan's education ministry was forced to drop plans to incorporate homosexuality education into the curriculum due to strong opposition by some Christian groups.
Gay rights organisations have warned that discrimination against gays remains serious in Taiwan, and around 50,000 people took to the streets of the capital Taipei in the wake of a series of anti-gay incidents last year.
Among them was a much-publicised medical dispute involving five patients receiving organs from an HIV positive donor, who was homosexual, due to a hospital's mistake.
The incident led to some suggestions that homosexuals should be banned from donating blood and organs, which sparked an outcry from gay rights groups.
Compared with other Asian nations, Taiwan is becoming more open-minded towards homosexuality, although the acceptance is still much lower than the United States and Europe, according to some surveys.
The respondents in the new survey were aged 24 years on average, with the youngest just 14 years old.