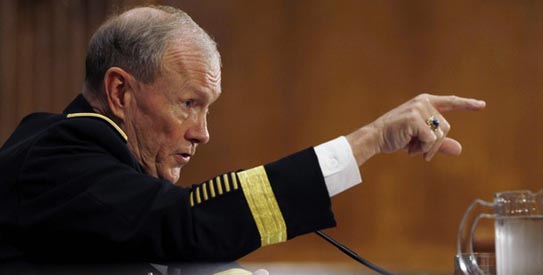 WASHINGTON: US Joint Chiefs of Staff Chairman General Martin E Dempsey has said that he had spoken with the Pakistan Army chief at least five times since the November 26 cross-border Nato air raid that left 24 Pakistani soldiers dead.
Dempsey was responding to questions on the meeting in Pakistan Wednesday where General James Mattis, commander of the US Central Command and General John Allen, commander of US and Nato forces in Afghanistan, met Pakistan Army Chief General Ashfaq Pervez Kayani.
According to the American Forces Press Service, Dempsey was pleased about the recent meeting between US and Pakistani leaders.
"We want to rebuild the trust and confidence between our two militaries," Dempsey told reporters travelling with him in South America.
The Pakistanis want to reset military-to-military relationship with the US, said Dempsey.
This includes working the border issues with the Pakistanis and reopening the ground supply lines through Pakistan to Afghanistan, he added.
Moreover, the US general said he believes the two militaries can also discuss what must be done in the Federally Administered Tribal Areas to improve the situation in both Afghanistan and Pakistan.