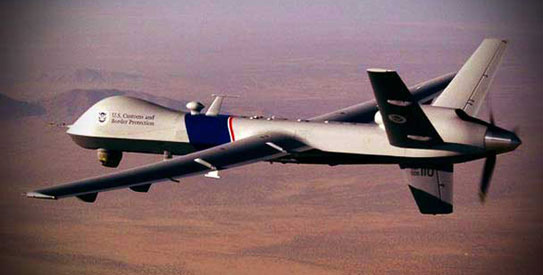 WASHINGTON: In a bid to save the CIA's drone campaign against al-Qaeda in Pakistan, US officials offered key concessions to Pakistan's spy chief that included advance notice and limits on the types of targets.
But the offers were flatly rejected, leaving US-Pakistani relations strained as President Barack Obama prepares to meet Tuesday with Pakistan's prime minister.
CIA Director David Petraeus, who met with Pakistan's then-spy chief, Lt. Gen. Ahmed Shuja Pasha at a meeting in London in January, offered to give Pakistan advance notice of future CIA drone strikes against targets on its territory in a bid to keep Pakistan from blocking the strikes,  arguably one of the most potent US tools against al-Qaeda.
The CIA chief also offered to apply new limits on the types of targets hit, said a senior US intelligence official briefed on the meetings. No longer would large groups of armed men rate near-automatic action, as they had in the past, one of the so-called "signature" strikes, where CIA targeters deemed certain groups and behaviour as clearly indicative of militant activity.
Pasha said then what Pakistani officials and its parliament have repeated in recent days: that Pakistan will no longer brook independent US action on its territory by CIA drones, two Pakistani officials said. All the officials spoke on condition of anonymity to discuss the sensitive negotiations.
Pasha went further, saying Pakistan's intelligence service would no longer participate in joint raids with US counter-terrorist teams inside its country, as it had in the past.
Instead, Pakistan would demand that the US hand over the intelligence, so its forces could pursue targets on their own in urban areas, or send the Pakistani army or jets to attack the targets in the tribal areas, explained a senior Pakistani official.
The breakdown in US-Pakistani relations follows a series of incidents throughout 2011 that have marred trust, from a CIA security officer who shot dead two alleged Pakistani assailants, to the US Navy Seal raid that killed Osama bin Laden in May, to the border incident where US forces returned fire they believed came from a Pakistani border post, killing 24 Pakistani troops.
The diplomatic fallout has led to the ejection of US military trainers who'd worked closely with Pakistani counter-insurgent forces, slowed CIA drone strikes, and almost halted the once-common joint raids and investigations by Pakistan's intelligence service together with the CIA and FBI.
Pasha's pronouncements were in line with the Pakistani parliament's demands issued last week that included ceasing all US drone strikes as part of what Pakistani politicians call a "total reset" in its relationship. Pakistan's parliament last week demanded cessation of all unilateral US actions including the drone strikes.
Other US officials said no such concessions were offered to Pasha, and insisted US counter-terrorism actions continued as before.
Deputy National Security Adviser Ben Rhodes, traveling with Obama in South Korea, said the administration was in constant contact with Pakistan about counter-terrorism and said reports of strain between the two sides "did not represent the ongoing nature of the dialogue with Pakistanis."
"Frankly, we've seen significant success in those counter-terrorism operations because US-Pakistani cooperation has enabled the devastation, really, of al-Qaeda leadership in that part of the world," Rhodes said.
Still, the hardening positions on both sides set up a potentially rocky meeting ahead between Obama and Pakistani Prime Minister Yusuf Raza Gilani in South Korea on Tuesday, on the sidelines of the Nuclear Security Summit. President Asif Ali Zardari met with special representative to Afghanistan and Pakistan Ambassador Mark Grossman in Tajikistan this week, and Central Command chief Gen. James Mattis is headed to Pakistan in April.
A personality change at the top of the Pakistani Inter-Services Intelligence is another wrinkle, with Pasha now replaced by Army Lt. Gen. Zaheerul Islam officially last week, a senior US official said. While Islam has spent time studying at US military institutions, and once served as deputy to the ISI, he is a mostly unknown entity to US officials. The staff change was not anticipated when the January Pasha-Petraeus meeting took place, both US and Pakistani officials said.
The diplomatic furore threatens to halt the CIA's drone program, which in the last eight years, has killed an estimated 2,223 Taliban, al Qaeda and other suspected militants with 289 strikes, peaking at 117 strikes throughout 2010, reducing al Qaeda's manpower, firepower and reach, according to Bill Roggio at the Long War Journal website, which tracks the strikes. US officials say his figures are fairly accurate, though they would not give more precise figures.
The strikes have markedly slowed to only 10 strikes in the opening months of this year, with the last in mid-March, Roggio said.