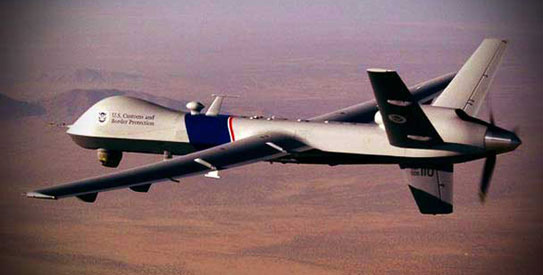 DERA ISMAIL KHAN: US drone aircraft struck twice in northern and southern parts of Waziristan tribal regions on Tuesday, killing at least 14 suspec-ted militants, including two 'commanders', security and intelligence officials said.
In the first strike, a drone fired missiles at a vehicle in the Birmal area of South Waziristan, killing seven men.
Another seven suspected militants were killed in the second attack later in the day, when a drone fired missiles at a vehicle in the Sara Khawra area, which straddles the border between North Waziristan and South Waziristan.—Reuters
Our Correspondent in Ladha adds: The seven militants killed in the first attack belonged to the Mullah Nazir group.
Intelligence sources and local people identified four of the deceased as Hafeez Amir Hamza, Shamsulllah, Wajahat and Abdullah.
The bodies of three others were mutilated beyond recognition.
Hafeez Amir Hamza and Shamsullah were important commanders of the group.
Amir Hamza belonged to the five-member 'Shura-i-Muraqba' formed on Dec 31, last year, to sort out differences among militant groups and stop killing of local tribesmen by terming them 'spies'.
Other members of the Shura are Maulvi Saddar Hayat, Maulvi Saeedullah, Maulvi Noor Sayed and Maulvi Azmatullah.
According to our correspondent in Tank, a woman and her child were injured when suspected Taliban militants fired four missiles in Kariwam area. One missile hit a school where people of Turkistan Battani tribe displaced from Sararogha area are living.
Another missile hit the house of one Zar Mohammad Battani, injuring his wife and daughter.
They were taken to a hospital in Jandola. Two missiles landed in open fields.
Local people blamed Taliban for the attack which they said was aimed against pro-government tribesmen of the Abdullah group.