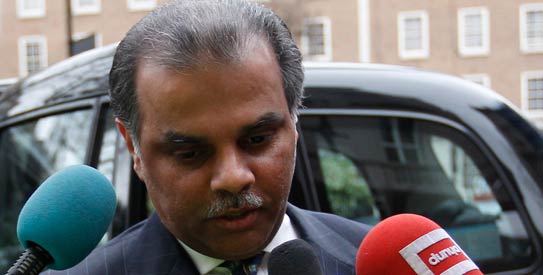 ISLAMABAD: The judicial commission probing the Memogate scandal continued recording US businessman Mansoor Ijaz's testimony today at Pakistan's High Commission in London, DawnNews reported on Thursday.
During his testimony today, Ijaz admitted that he had prepared the first draft of the controversial memo himself without former ambassador to US Husain Haqqani's consent.
Former US General James Jones had asked for the message to be in written form, said Ijaz, adding that he had to author the first draft himself after he was unable to get hold of Haqqani.
Ijaz, who is testifying to the commission by video link, claimed he agreed on secret codes for the army and intelligence chiefs with Haqqani.
Ijaz told judges that the former wrote him a message on his Blackberry referring to the Pakistani government as "friend", and army chief General Ashfaq Kayani and ISI chief Lieutenant General Ahmad Shuja Pasha as "bad boys".
He also claimed that Ispahani, which is Haqqani's wife's second name, was their code word for the Americans.
Asked by the commission, what he meant by "bad boys", Ijaz replied: "they are army chief and DG (director general) ISI (Pakistan's intelligence service)."
Claiming that he was a Muslim, and reciting the first 'kalma' as evidence, Ijaz said that he was clearing any ambiguity Haqqani's lawyer had raised on his religious background.
Earlier on Wednesday, he said Haqqani told him that the approach to the Americans had been authorised by Zardari "who wanted to put together a new national security team similar to national security team in USA".
Zahid Bukhari, counsel of former ambassador to US Husain Haqqani, said that media had misreported the statement regarding seeking US help for COAS removal. The court ordered the media to show responsibility in the matter and also instructed the media not to broadcast footage of the commission's proceedings.
The Chief Justice of the Balochistan High Court, Justice Faiz Essa is heading the Memo Commission while Chief Justice Sindh High Court Mushir Alam and Chief Justice of Islamabad High Court, Hameed-ur-Rehman are the other two members of the commission..