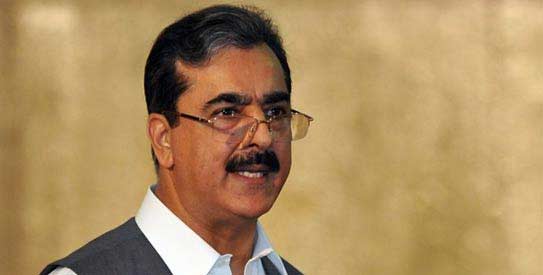 ISLAMABAD: The Supreme Court on Wednesday constituted an eight-member larger bench to hear the intra-court appeal requesting it to suspend its decision of framing contempt charges against Prime Minister Yousuf Raza Gilani on Feb 9 (tomorrow), DawnNews reported.
The bench would be headed by Chief Justice Iftikhar Mohammad Chaudhry.
The apex court on Wednesday had said that the appeal could be heard on Thursday, to which the premier's counsel, Barrister Aitzaz Ahsan, agreed. Earlier today, the appeal was filed by Ahsan. It requested the court to postpone the prime minister's indictment.
On Feb 2, the apex court had issued summons for the premier for Feb 13 for him to be indicted with contempt over his refusal to pursue corruption cases against President Asif Ali Zardari.
The announcement had significantly escalated pressure on the embattled prime minister, threatening to plunge his weak government deeper into crisis and force early elections within months.
The appeal further stated that the ruling was issued without the premier being given an opportunity to defend himself directly.
Ahsan said he based the appeal on precedents set by top courts in Australia, Britain, France, India and the United States.
"I have filed an appeal today. I have quoted more than 50 national and international cases and given specific reasons against the Supreme Court order," Ahsan told reporters earlier today.
"My objection is that the court in its order on February 2 cited no specific reasons for initiating contempt of court proceedings against the prime minister," he added.
If convicted of contempt, the prime minister could be jailed for up to six months and disqualified from public office.
Former Supreme Court judges said they were not convinced of the grounds for appeal, but said the matter would have to be decided quickly.
"They can simply prolong the case for two or three weeks but apparently they have no solid ground in their defence. They have not come up with a satisfactory plea so far," said Rashid Rizvi, a former judge.
One former chief justice called on the government to resign.
"It will be good for the country if the government quits and holds elections. The current situation is crippling the economy and people are dying because of poverty and lawlessness," Fakhruddin Ebrahim told AFP.