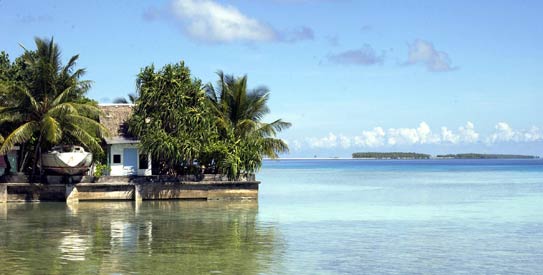 UNITED NATIONS: Small island nations, whose very existence is threatened by the rising sea levels brought about by global warming, are seeking to take the issue of climate change before the International Court of Justice.
Johnson Toribiong, president of Palau, said Friday his country and other island nations had formed an expert advisory committee to bring the issue before the U.N. General Assembly. That would allow the world court in the Hague to determine the legal ramifications of climate change under international law.
''If 20 years of climate change negotiations have taught us anything, it's that every state sees climate change differently. For some, it is mainly an economic issue ... for others it's about geopolitics and their past or future place in the global economy, but for us it's about survival,'' Toribiong said.
''Pacific countries are in the red zone, a swell of ocean where waters have risen two or three times higher than anywhere else in the world. That differential might explain why we speak about climate change so urgently and we look to everyone in every corner of the United Nations to find a solution,'' he added.
Michael Gerrard, director of the Center for Climate Change Law at Colombia University and a member the advisory committee, said the idea is to have a court determination compelling developed nations to control emissions of the greenhouse gases believed to cause global warming in the absence of an international treaty.
Gerrad said that the big emitter nations could then be found liable under the international law principles of transboundary harm, when physical activities in one country impact adversely upon another, and the preservation of statehood _ something that becomes exceedingly difficult if a country is submerged between the rising oceans.
Palau's announcement comes just months before the United Nations is scheduled to hold a major international environmental conference in Rio de Janeiro, ''Rio plus 20,'' referring to the 20 years since the U.N. Earth Summit was held in that tropical city.
Unlike the 1992 Earth Summit that was devoted to climate change the June conference will discuss sustainable development, a change diplomats have said has to do with the difficulty of advancing emissions reductions in today's political environment.
Dr. Dessima Williams, Grenada's U.N. ambassador, said the idea of bringing the issue before the world court was to raise the level of international consciousness ahead of the Rio conference.
''We (the island nations) cannot meet the challenge of sustainable development goals if climate change is not addressed,'' Williams said.