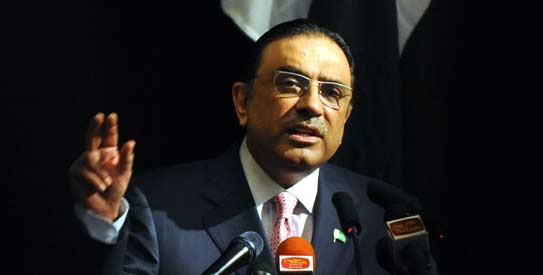 ISLAMABAD: President Asif Ali Zardari on Tuesday said that he was ready to give up his seat if his party (PPP) and coalition partners desire, dawnNews reported.
The president along with Prime Minister Yousuf Raza Gilani was presiding over a meeting of parliamentary leaders of coalition partners at the Presidency in Islamabad.
The president has also called a session of the National Assembly on January 12.
Overall political situation of the country came under discussion during the meeting which was attended by ANP chief Asfandyar Wali, PML-Q chief Chaudhry Shujaat Hussain, Mir Israrullah Zahri, MQM leaders Farooq Sattar and Babar Ghauri and senior leaders of Pakistan Peoples Party.
There will be another meeting of same stature before the Jan. 12 NA session, said the president's spokesman Farhatullah Babar.
Babar said that the meeting also condoled the sad demise of Chief of PML (Functional) Pir Sahib Pagara, who passed away in a London hospital.