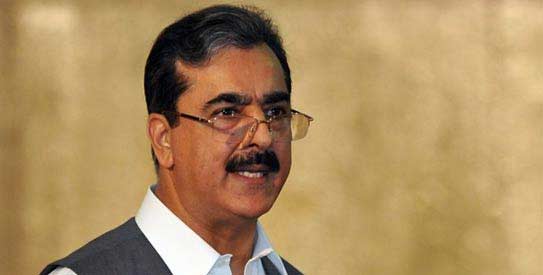 KARACHI: Pakistan's former cricketer-turned-politician Imran Khan brought at least 100,000 people into the streets of Karachi on Sunday in a massive rally that increases pressure on the civilian government and cements his standing as a political force.
Khan is riding a wave of dissatisfaction with the government of President Asif Ali Zardari, who co-chairs the ruling Pakistan People's Party (PPP), and is facing challenges from the military, the supreme court and political opponents after a year of cascading crises.
Police estimated the rally had been attended by between 100,000 and 150,000 people. Khan's Pakistan Tehreek-i-Insaaf (PTI), or Pakistan Movement for Justice, estimated the crowd at more than 500,000.
Even at the lower estimate, it is among the largest political rallies held in Karachi in recent years. Khan, in a rousing speech punctuated with patriotic musical refrains, pledged, if elected, to curb Pakistan's endemic corruption.
"We need a government that changes the system and ends corruption, so we need the PTI to come to power," Khan told the crowd. "The first thing we need to do is end corruption."
"I promise we will end big corruption in 90 days," he added.
Khan's massive rally comes at a time of crisis in Pakistani politics. Tensions are rising between Pakistan's civilian leaders and its generals over a memo that accused the army of plotting a coup after the US raid that killed Osama bin Laden in May.
There are signs that Pakistan's powerful army is fed up with Zardari and wants the supreme court or early elections to force him from office. The army chief dismissed any rumours of a coup, however, as "speculation".
"It's time for a change and only PTI and Imran Khan can bring about that change," said a school teacher. She was wearing a PTI cap and had come with her two brothers.
Several recent polls have shown Khan is Pakistan's most popular politician. He is especially favoured in urban areas.
"He is riding a wave of popular politics right now," said Mutahir Ahmed, a professor of International Relations at the University of Karachi. "There is a lot of frustration among ordinary people, as well as political workers right now, which he is cashing on."
On Oct 30 Khan staged a similar rally in Lahore that observers said pulled between 100,000 and 200,000 people, then one of the largest political rallies ever in Pakistan.
"He has ... managed to bring people out on the roads, and this is a big achievement, especially in Karachi, where three months back people were not ready to come out of their houses because of rampant violence and killings," Ahmed said.
But popularity doesn't always translate into political power. The majority of Pakistan's voters are rural, where feudal relationships determine generations of political loyalty.
Khan, for all the enthusiasm shown for him among young people and the urban middle class, has yet to demonstrate the party machinery that the PPP and the Pakistan Muslim League-N faction have had decades to perfect.
In the last 15 years, the PTI has only briefly held one seat in parliament, Khan's. Most analysts say Khan could score an upset of 20 to 30 seats in parliament, but that's not enough to give him the premiership. It is enough to make him a major political player, however or even a kingmaker.
"It's too premature to get into speculation of whether he becomes prime minister or not but the chances of his party getting into parliament look very good," said security analyst Imtiaz Gul.
He also has a touchy relationship with the United States, Pakistan's ally and aid donor. He says that if elected prime minister, he would end cooperation in the fight against militants based in tribal areas, end the covert campaign of bombings by US drones and refuse all US aid, which totals some $20 billion since 2001.
Relations with the United States have reached a crisis point because of a Nov 26 cross-border incident in which Nato aircraft killed 24 Pakistani troops. Pakistan has since shut down Nato supply routes into Afghanistan and demanded an apology.
Nato's full report on the incident, which Pakistan has already rejected based on media leaks, is expected to be released on Monday. It reportedly faults both sides in the incident.
Khan's anti-American stance is often thought to reflect the views of the security establishment, which includes the powerful army and its Directorate of Inter-Services Intelligence (ISI).
The US ambassador to Pakistan, Cameron Munter, however, said in November that he didn't see Khan as anti-American.
"Imran Khan is, as far as he tells me, for the same kind of values that we think are important," Munter said on a popular talk show on Nov. 22. "He says he's for democracy, he's for governance that's clean, he's for economic growth. We're all for those things."