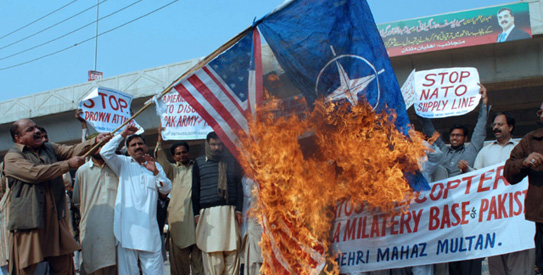 ISLAMABAD: Hundreds of Pakistanis called on Islamabad Monday to break off its alliance with the United States and get out of the war on Al Qaeda as protests against a lethal Nato strike pushed into a third day.
Twenty-four Pakistani soldiers were killed in the cross-border attack early Saturday by Nato helicopters and fighter jets.
Members of civil society, lawyers, traders and students organised the rallies, still relatively small, in major cities of the country of 167 million people, where opposition to the US alliance is rampant.
Lawyers went on strike across the country, demonstrating outside court buildings, chanting slogans against Nato and the United States, officials from bar associations across the country said.
"We marched at the Islamabad High Court premises and expressed our anger against this attack, none of us went to the courts today," Ashraf Gujjar, president of Islamabad High Court Bar Association, told AFP after one rally.
"The government should cut Nato supplies permanently, take back military bases from the US and plead that this cases violates the borders in the UN Security Council," he quoted from a resolution passed by lawyers.
In Peshawar, the main city in northwest Pakistan where an Al Qaeda and Taliban-led insurgency is rife, several hundred students blocked a main road, chanting "Death to US" and "Quit the war on terror", an AFP reporter saw.
Scores of tribesmen also gathered in Mohmand, the tribal district where the soldiers were killed, to protest against the attack and demand that the government change its pro-US policy, Khalid Khan, an administration official in the district told AFP.
Some 200 lawyers blocked the national highway to the east of Karachi, chanting slogans in the favour of Pakistani army, police said.
In Multan, Jamatud Dawa, blacklisted by the United Nations as a terror group, gathered a crowd of several hundred, burning an effigy of US President Barack Obama and US flags, an AFP photographer said.
In Pakistani-administered Kashmir, around 600 people in the town of Garhi Dupatta joined the relatives of a soldier killed in the attack, and chanted slogans against the US, police official Ishtiaq Gilani told AFP.
"The government must retaliate and should suspend the relations with the US until there is a fair and free investigation," Zafar Iqbal, 25, the brother of fallen soldier Tahir Iqbal told AFP from the protest.