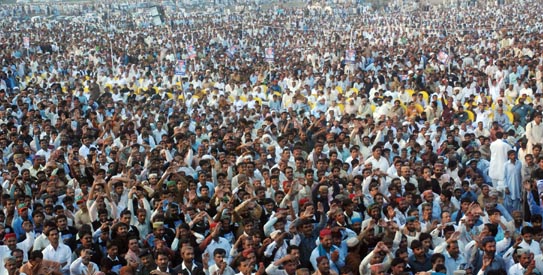 ISLAMABAD: Instead of becoming a 12th man in the PML-N team, former foreign minister Shah Mehmood Qureshi decided on Sunday to become vice captain in Imran Khan's Pakistan Tehrik-i-Insaaf (PTI), commented an aide to Nawaz Sharif on Sunday.
Talking to Dawn , the PML-N leader said on condition of anonymity the party knew much before Mr Qureshi's recent meeting with Mian Nawaz Sharif that he would join the PTI.
Meanwhile, PML-N spokesman Senator Mushahidullah Khan rejected a perception that Mr Sharif's meting with Mr Qureshi couldn't bear fruit because of his tough demands.
However, according to sources in the PML-N, Mr Qureshi had asked for half a dozen tickets for provincial and national assemblies' constituencies of his choice in addition to the portfolio of foreign minister for himself.
"Although Mr Qureshi had a couple of one-to-one meetings with Nawaz Sharif, I was present during other meetings and there was no issue of give and take," said Senator Khan.
Knowing PML-N's standing in national politics Mr Qureshi could not have put forward such demands and nor was it possible for the party leadership to offer him something big in advance, the PML-N spokesman said.
He said people like former IB chief Masood Sharif Khattak, who recently joined the PTI, had come to the PML-N leadership earlier and sought the ticket but the party refused because it couldn't offer that in advance.
He agreed that had Mr Qureshi joined the PML-N it would have been a good addition to the party.
Meanwhile, PTI vice-president Rauf Hassan rejected a perception that Mr Qureshi would ultimately take over the party. He agreed that Mr Qureshi had an established political career and was a known face but said it was the party that mattered in the end.
"The PTI has a certain agenda that is for change in the country and the party will be more than happy if Mr Qureshi plays a key role in achieving this goal," said Mr Hassan.
Khwaja Asif of the PML-N, speaking in a TV programme, said the PTI was increasingly becoming a 'dumping ground' for leftover politicians and Imran Khan by doing so was betraying the youth of the country who had pinned lot of hopes on him and his party.
PTI deputy secretary general Imran Ismail responded by saying that his party had a multi-tier system in place to scrutinise people who would eventually be given party tickets in the elections.
"Yes, people are joining the PTI in huge numbers but anybody with tainted background will not be allowed to rise in its ranks."