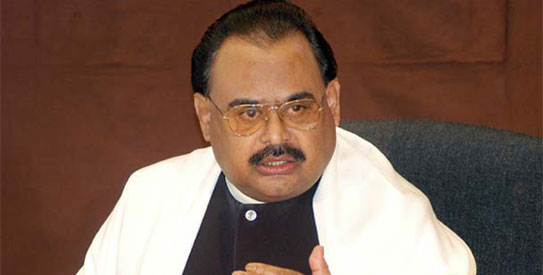 LAHORE: Muttahida Qaumi Movement chief Altaf Hussain has advised President Asif Ali Zardari to hold by-elections if the opposition resigns from the assemblies.
Addressing local office-bearers of his party on phone from London on Sunday, he said the opposition was planning to pave way for new elections by dissolving the Punjab Assembly and resigning en bloc from other assemblies but President Zardari should hold by-polls for the seats vacated by them.
He said the MQM would take part in the next elections all over the country, adding that the day was not far off when Punjab would embrace revolution and palaces of feudal lords would be converted into schools.
He said when his party's philosophy started gaining ground in Punjab it was drawn into controversies and was presented as an anti-state organisation.
He said no agency could prove that he owned even an inch of land in the country while the self-styled 'khadims' of the nation owned big palaces.
Mr Hussain urged the Supreme Court and religious scholars to take notice of alleged blasphemous remarks of a former Sindh minister who had also said that Mohajirs were hungry and destitute when they migrated from India to Pakistan.
He said he and his party were blamed for the situation in Karachi, but who was responsible for riots in Karachi and other areas of Sindh in 1964 and 1973 when there was no MQM.
He regretted that everyone was talking about the May 12, 2007, massacre but none was mentioning the 1986 bloodbath in the Aligarh and Qasba Colonies.
The MQM leader urged the people of Punjab to create an atmosphere in which he could choose Lahore to land on his return from exile.
He said the country was facing many threats but his party would foil all conspiracies with the help of the armed forces.