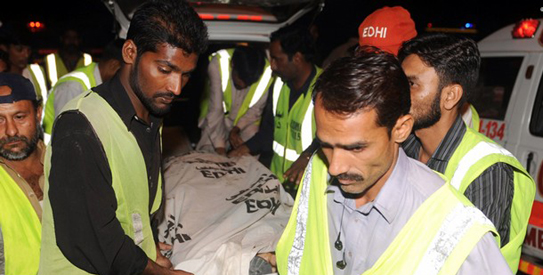 KARACHI: At least 17 people were killed including Pakistan Peoples Party's (PPP) ex-MNA and leader Waja Karim Dad in incidents of firing and grenade attacks in Karachi on Wednesday, DawnNews reported.
Waja was at a restaurant along with friends for Iftar, when unknown gunmen opened fire on him killing four, including him, and injuring three others.
He sustained critical injuries and breathed his last at the Civil Hospital Karachi (CHK), said police.
Meanwhile, four people were killed including a young girl and seven others were injured in a series of five hand-grenade attacks in the Bhempora area of Karachi.
Six people were injured in a shooting spree in the Methadar area. Two of the injured succumbed to death in the Civil Hospital.
A motorcycle and a rikshaw were also set on fire on Nepiar road.
After the series of violence shops and markets were shut in the Lyari and Old city area as fear spread amongst the residents.