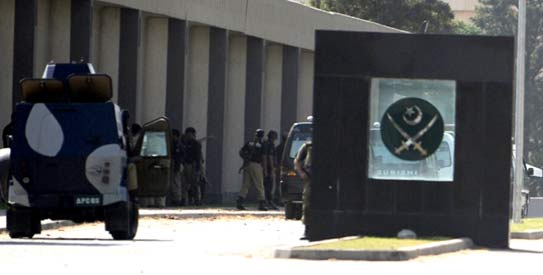 ISLAMABAD: A military court in Rawalpindi has sentenced to death a former soldier over an attack in 2009 on the Pakistan Army Headquarters (GHQ) and awarded prison terms to the others.
The sentences, according to a military source, were handed down to the convicts almost a fort-night ago. However, they became public after the relatives of some of the convicts visited them at Adiala jail.
Aqeel alias Dr Usman, a former soldier of the army's medical corps, was given the maximum punishment of death while another retired soldier, Imran Siddiq, was awarded life imprisonment.
Three civilians — Khaliqur Rehman, Mohammad Usman and Wajid Mehmood — were given life terms while two others, Mohammad Adnan and Tahir Shafiq (both civilians), got eight and seven years jail sentence respectively.
"One former soldier, Aqeel, alias Dr Usman was awarded the death sentence while one of his accomplices, also an ex-soldier, and three civilians were sentenced to life," a Western news agency quoted a military official as saying on Saturday.
Aqeel was caught injured during the Oct 10 raid on GHQ by militants while the other serviceman and five civilians were found guilty of abetment.
The trial by the military court, which was headed by a brigadier, lasted over five months at an undisclosed location.
The Inter-Service Public Relations (ISPR) would not confirm or deny the sentencing by the military court.
Eleven soldiers had lost their lives in the embarrassing Oct 10, 2009, attack when 10 heavily armed militants, wearing suicide vests, stormed the GHQ, holding off commandos for hours.
A lawyer for one of the accused said his client intended to challenge the sentence before a military court of appeal.
Colonel (R) Inamur Rehman, a defence lawyer for Wajid Ali — one of the convicts — said he would apply for a copy of the verdict on Monday.
Under article 199, sub article 3, of the Constitution, verdicts handed down by military courts cannot be challenged in a high court. However, a Supreme Court ruling provides that those convicted by a military court can petition a high court if they could prove that the verdict was mala fide.
Col Inam, after getting a copy of the decision, would try to see if he could establish that the military court acted with mala fide intentions.
Under the normal process, a mercy petition could be filed with the Chief of Army Staff. If the appeal is rejected, the convicts can then approach the President.
Col Inam said that under military rules, the convicts can appeal within 40 days of an order passed by a military court.
Agencies add: The Taliban had claimed responsibility for the day-long siege.
Troops ultimately fought off the attackers and freed 39 hostages, but 23 people were killed, including 11 troops, three hostages and nine attackers.