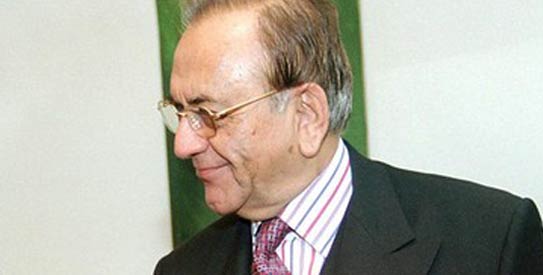 KARACHI: Even as revelations about Dr Abdul Qadeer Khan's nuclear trafficking were raising concerns about possible military involvement in proliferation activities, the Musharraf regime appears to have been actively dissuading Iran, one of Dr Khan's clients, from developing nuclear weapons.
Confidential American cables obtained by Dawn through WikiLeaks reveal that in a series of meetings with senior Iranian officials Gen Pervez Musharraf, Prime Minister Shaukat Aziz and Foreign Minister Khurshid Kasuri took a hard line against any Iranian efforts to acquire nuclear-weapons capability.
Pakistani officials also served as interlocutors between Iran and the US, reporting to the Americans on these meetings and relaying messages between the two countries.
At least seven such meetings or phone calls took place with the Iranians and 11 with the Americans in 2006 alone.
A May 2006 cable about Gen Musharraf's meeting with Iranian First Vice President Parviz Davoodi reported that "according to Kasuri, Musharraf told the visitors that Iran should stop all efforts to enrich uranium now, adding that Tehran was making life difficult for its neighbour, Pakistan".
Later that year, Mr Kasuri would tell the Americans that over the past three years he had "made it his mission to persuade Tehran not to provoke a conflict over Iran's nuclear program thus endangering regional — and Pakistan's domestic — security".
Based on the frequency of reporting to American officials on the issue, toeing the US line seems to have been one motivation for this deep involvement. But in an April 2006 meeting with US Senator Chuck Hagel, Mr Kasuri provided a list of other reasons why Pakistan was so keen to prevent Iran from acquiring nuclear weapons.
'"We are the only Muslim country [with such weapons],"' he said, '"and don't want anyone else to get it."'
Mr Kasuri was also worried that because Pakistan was "a perceived US 'stooge' ", an American attack on Iran would "embarrass Pakistan in the Muslim world", possibly lead to Iran "destabilising" the country and "inflame sectarian tensions" at home.
The conversation took place against the backdrop of Iran's announcement earlier that month that it had successfully enriched uranium.
Mr Kasuri offered his advice on the development, insisting that the announcement was a "'PR stunt'" since Iran's enrichment capabilities were "'not a new thing'" and that the US should simply "'humour them'" instead of responding militarily.
"During a visit to Pakistan," the cable added, "Ali Larijani, secretary of Iran's Supreme National Security Council, has asked Kasuri to talk to the Americans. Kasuri had said he would do so on one condition, that Iran's program had to be independently verifiable."
This was the role an anxious Mr Kasuri would continue to play that year, urging the US to talk to Iran and the latter to back off from weapons development.
Before an upcoming visit with President Ahmedinejad on the sidelines of a D-8 conference of developing Muslim countries in May 2008, Prime Minister Aziz had also "asked if [the Americans] had any advice".
Mr Kasuri later updated the US Embassy on this visit, reporting that Mr Aziz and the Turkish prime minister "met privately with Ahmedinejad, conveying a direct message that Tehran must … forego its weapons program.
"Aziz and Erdogan also condemned Ahmedinejad's statements attacking Israel as completely unacceptable …
"Aziz urged Ahmedinejad to publicly announce that Iran would immediately place a moratorium on uranium enrichment, in order to give the EU-3 an opening to re-engage Tehran in constructive dialogue."
Later that month, when the US announced its willingness to join the EU-3 in talks with Iran, the American ambassador informed Mr Kasuri that "the US expects Pakistan to vigorously support the US action. FM Kasuri agreed, saying that he would ensure that the MFA issued a statement of support immediately."
By 11pm that night a statement had been issued, and Mr Kasuri followed this up with a call to the Iranian foreign minister urging Iran "to announce an immediate suspension of its enrichment program in order to give dialogue a chance".
This phone call was, again, promptly reported to the American ambassador, who commented that "Kasuri may be wildly worried that he has gone out on a limb by endorsing the Secretary [of State's] statement so vigorously."
Interactions continue for the rest of the year, and in December 2006, "fresh off his plane from Tehran, Foreign Minister Kasuri briefed the ambassador … regarding his conversations with President Ahmedinejad, FM Muttaki, former President Rafsanjani …
"Although the MFA had publicly described the foreign minister's visit as centring on the Iran-Pakistan-India pipeline, Kasuri told the ambassador that he discussed a number of other topics, such as nuclear policy, Lebanon and Iraq." Mr Kasuri then went on to provide a detailed report on his nuclear-policy discussions in Tehran.
In the last such cable written during the Musharraf government, the ambassador noted in March 2007 that "Foreign Minister Kasuri says he has told Iranian Foreign Minster Muttaki that Iran must change its unrealistic and destabilising stances toward Israel, the US and nuclear issues.…
"President Musharraf visited Tehran in February … According to [Foreign Secretary Riaz Mohammad] Khan, Musharraf met with Ahmedinejad to … 'clearly convey concerns that Iranian confrontation (with the US and the west) must be prevented.'"
Cables referenced: WikiLeaks # 60762, 64511, 65800, 66183, 66432, 91041, 101153.