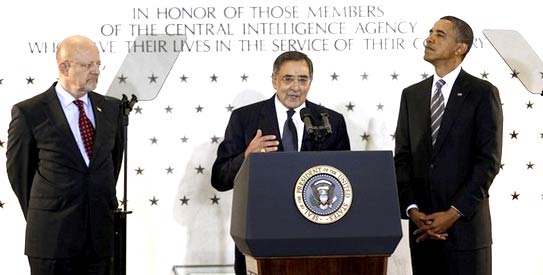 WASHINGTON: Cooperating with Pakistan in the fight against terrorism is essential to maintain pressure on al Qaeda after Osama bin Laden's death, CIA chief Leon Panetta said ahead of a US Senate hearing Thursday.
"Continuing cooperation with Pakistan is critical to keep a tremendous amount of pressure on al Qaeda's leadership and the networks that provide it support and safe haven at a time when it is most vulnerable," Panetta said in written responses to US lawmakers.
But he warned that Pakistan, which is a large recipient of US aid, needed to do more to step up in the fight against terrorism.
"Future requests for security assistance will be informed by Pakistan's response to the counter-terrorism steps we have proposed," he said.
Panetta is to attend Thursday's hearing of the Senate Armed Services committee as it considers his nomination to be the next secretary of defense to replace Robert Gates.
The current CIA chief acknowledged in his responses, a copy of which was obtained by AFP Wednesday, that "the relationship with Pakistan is not always easy and we have our differences." But he said: "One of the key lessons from this operation is that we have seen no clear evidence to indicate that senior Pakistani leaders were involved in harboring Osama bin Laden or knew of his whereabouts." The al Qaeda leader and mastermind of the September 11, 2001 attacks was killed by a US commando raid on his Pakistani hideout on May 2, after a decade-long manhunt to find him.
"If confirmed, I will continue to work with our partners in both Afghanistan and Pakistan to achieve our goal of eliminating terrorist networks that threaten the United States and our allies and partners," Panetta wrote.
Pakistan has lost some 11,000 soldiers in its counter-terrorism operations in the lawless northwestern tribal areas and has suffered "more than 30,000 civilian casualties in recent years, most recently in significant attacks following the bin Laden operation," he said.
But he stressed: "It is vital that Pakistan live up to its end of the bargain, cooperating more fully in counterterrorism matters and ceasing to provide sanctuary to Afghan Taliban and other insurgent groups."