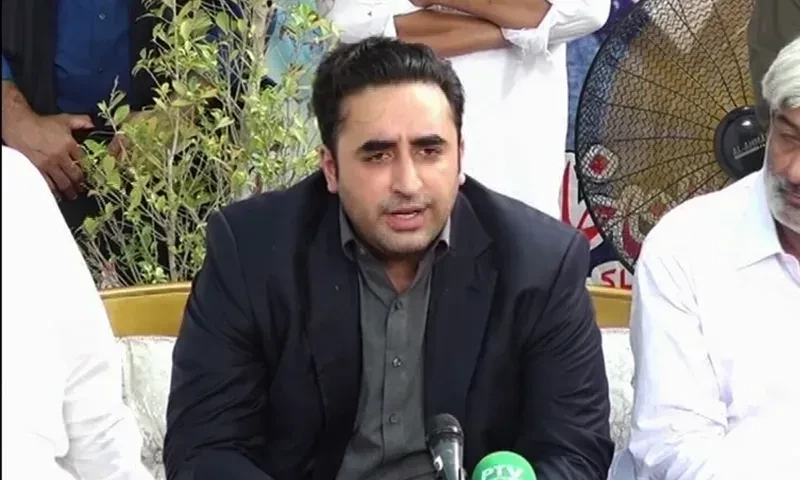 OKARA: Criticising PM Anwaarul Haq Kakar's participation in the upcoming UN session, PPP Chairman Bilawal Bhutto-Zardari on Monday said that the foreign minister should represent Pakistan at the General Assembly instead of the prime minister, as the interim government only enjoys a limited mandate.
Addressing a press conference here at Baloch House, the former foreign minister asked the caretaker government to confine itself to its task of running basic affairs of the country and holding fair and free elections with a level-playing field being provided to all stakeholders.
Mr Bhutto-Zardari said the ECP should announce the schedule for general elections without any further delay, so that there is an elected government in place to deal with these matters.
The PPP leader visited Baloch House to offer condolences over the murder of the younger brother of PPP central Punjab's deputy secretary, Meer Asif Khan Baloch.
Responding to a question, he said PPP would decide whether it wanted to enter into an electoral alliance once the poll schedule was announced.
He said that during the party's recent CEC meeting, it was demanded that the ECP should immediately announce the poll schedule.
He said the country was facing many challenges, including law and order, terrorism and political crisis, adding that some quarters wrongly believed the political crisis had been resolved after putting Imran Khan behind bars.
Talking about the new top judge, he said Chief Justice Qazi Faez Isa had delivered a silent and strong message by ensuring his spouse's presence beside him during his oath-taking.
"The saying goes that behind every successful man is a powerful woman. It has been proved by Sarina Isa that she is a powerful woman," Mr Bhutto-Zardari was quoted as saying in a press release issued by Bilawal House. He urged CJP Isa to restore judiciary's credibility.
He said subsidy should be provided to the poor instead of the elite or fertiliser factories.
He said PPP had prepared a project under which two million people would get apna makan in Sindh, adding, "We would also start a Youth Cards scheme like the Benazir Income Support Programme.
The PPP leader said the way the jiyalas of Okara had received the party's long march made it clear why Benazir Bhutto considered it 'mini-Larkana', said the press release.
Tariq Saeed in Toba Tek Singh also contributed to this report
Published in Dawn, September 19th, 2023