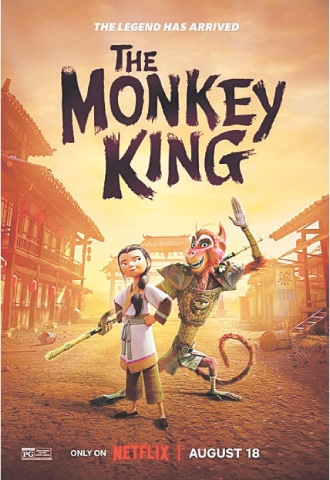 We have seen Donkey King, Ninja Turtles and lightning speed hedgehog 'Sonic', but the latest Netflix movie The Monkey King has qualities of all three. The protagonist is set to become a king, has a stick for fights and is quite hyperactive.
Set in a world where demons and kings reign supreme, The Monkey King is about an abandoned soul who grows up to be a warrior. Hatched from a stone egg, the monkey is destined to be great, as he can shoot lasers from his eyes. He did try to make friends with a colony of plain old primates by learning kung fu and beating the terrorising demon, but still lives with the tag of an outcast. After failing to be credited as a saviour, he steals a magical tick — also the source of his powers — and resolves to vanquish 100 demons. That was his way of acquiring the attention of the Immortals.
Based on a Chinese folk tale, TMK is an animated film where one eventually learns empathy and compassion for others, with time. The Monkey King is joined by a peasant girl Lin, who also wants to save her village. Lin, the young village girl, challenges Monkey's self-centred attitude and shows him that even the smallest pebble can have a big effect on the world. With the passage of time, the arrogance of the title character was defeated by the humble nature of the protégé.
In the 96-minute movie, the self-titled Monkey King sets off on a journey that could see him defeat the hundredth of the demons. The journey takes him to places like hell and heaven, where he encounters ghosts, death and new villains.
The antagonist of the film is the Dragon King, from whom the Monkey steals the stick. With two clumsy henchmen, Dragon King tries every trick up his sleeve to get the stick back, but the Monkey King is too good for him. From rubbing the gods the wrong way to picking fights with every human, The Monkey King is a film that will be remembered for its intricately choreographed fight scenes for a long.
Directed by Anthony Stacchi and featuring the voices of Jimmy O. Yang, Nan Li and Bowen Yang, The Monkey King is an action-animated fantasy movie, that can guide kids with no aim and an ego as high as a mountain, to be tamed into good fellows.
Published in Dawn, Young World, September 16th, 2023