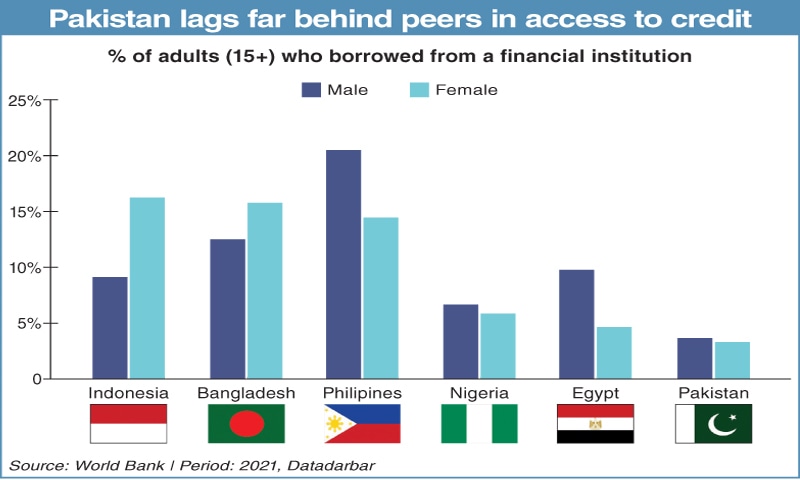 For decades, Pakistan has struggled to bring a large part of its population into the formal financial services net. We have heard this countless times: how the majority of the country is unbanked and so on. To tackle this, multiple strategy documents have been unveiled over the years, containing ambitious targets. But all of them are mostly focused on one thing only: opening new accounts.
The whole obsession is with adding more accounts without giving much regard to the underlying quality of the financial services. For example, while the total number of accounts — not unique depositors — reached 167.4 million by 2022, over 97m of those were branchless, which are often limited in scope and are mostly restricted to payments.
As Goodhart's Law states, when a measure becomes a target, it stops being a good measure. The same is happening with how we view financial inclusion in Pakistan, where little attention is being paid to what comes after being banked. Take credit, for instance, where even the traditionally banked population doesn't really get much.
In fact, Pakistan is one of the worst performers on a number of credit-related metrics. For example, our private sector credit to GDP stands at only 14.8 per cent, far lower than peers like Egypt at 30.8pc or Bangladesh at 39pc. And that too, remains concentrated towards select business groups and sectors who continue to benefit from periodic refinancing bonanzas.
According to the World Bank's Findex, only 3.6pc of Pakistanis report borrowing from a financial institution or mobile money account, putting us the fourth lowest in a sample of 145 countries
Everyone else is ignored by the custodians of financial service providers, especially individuals. According to the World Bank's Findex, only 3.6pc of Pakistan had reported borrowing from a financial institution or mobile money account. This puts us at the fourth lowest in a sample of 145 countries, just above Lebanon, South Sudan and Afghanistan. Instead of the numerous useless awards they brandish, maybe this is the ranking that should be plastered all over banks' websites?
As of July 2023, the total outstanding consumer financing portfolio of scheduled banks stood at Rs859.7 billion. With interest rates at a historic high, the amount is understandably declining rapidly.
For Pakistani women, the situation is even worse, as only 3.28pc of adult females have borrowed money from a financial institution, as per Findex. Again, we are way worse than the rest, as the corresponding figure for Bangladesh is five times as much.
The extent of the problem would have been a lot clearer if the sector and its guardians didn't actively gate-keep the data. Fortunately, the Pakistan Microfinance Network's quarterly reports publish gender-disaggregated information for select indicators. Though the industry accounts for just about 6pc of the overall banking loan portfolio, it caters to a far bigger population.
This allows us to have some sense of what's really happening with the credit uptake of women in Pakistan. For starters, the total gross loan portfolio of the microfinance industry (banks + institutions) reached Rs509.6bn as of March end. Females accounted for just a third, Rs168.2bn, of this.
In terms of active borrowers, women make up 45pc of the total, compared to 55pc by December 2015. However, in absolute value, active female borrowers have doubled from 2.1m to 4.2m over this period. Meanwhile, the average loan size to women remains substantially lower than what men get. In Q1-2023, these figures stood at Rs40,393 and Rs67,099, respectively.
Though as we noted, microfinance is still a small subset of the overall financial services industry, particularly by gross loan portfolio. Among scheduled banks, the only data available is that of credit cards, thanks to a recent upgrade in the State Bank of Pakistan's (SBP) Payment Systems Review, which shows that by Q1-2023, 243,050 credit cards, or 13.1pc of the total, belonged to women.
Another way to interpret this is that only 1.4pc of female accounts at scheduled banks (17.2m) had a credit card by December 2022. What was their total outstanding loan amount or the value and volume of transactions? Unfortunately, the SBP didn't bore us with those petty details. Oh, and these are unique customers, which would understandably be even lower.
To an extent, the aversion of the country's financial institutions transcends across genders. For example, only 0.22pc of Pakistanis reported owning a credit card, whose total number still remains at 1.93m by the way. But that antipathy towards women is still hard to miss. A great case in point is the refinance scheme for women entrepreneurs, where, despite incentives from the SBP, the banks showed little interest. Contrast that to the subsidised loans they hand out to their buddies in select sectors and the difference couldn't be more obvious.
Mutaher Khan is co-founder of Data Darbar and Halima Iqbal is the founder of Oraan
Published in Dawn, The Business and Finance Weekly, September 11th, 2023