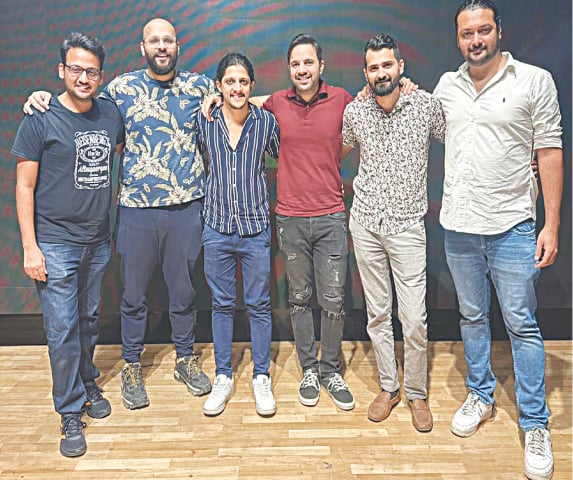 Pakistan had been missing out on the stand-up comedy scene for years, getting the experience only through their mobile, laptop and TV screens from comics of other parts of the world.
But, that may soon be a thing of the past. Audiences have developed an appetite for the real thing and stand-up comics who have been striving for acceptance among the masses are on track to take advantage of their efforts.
Hassaan Bin Shaheen, Akbar Chaudhry, Usman Mazhar, Ali Abdullah and Ammar Zaidi may have been divided by their professions, but united in their love for stand-up comedy. They are now banding together to take the challenge of open mics and stand-up comedy to all parts of Pakistan.
"We did six shows in August in Karachi and we also took the shows to North Nazimabad and Gulistan-i-Jauhar as well, so this idea that only people of Defence and Clifton have the privilege to experience such activities can also be negated," says Akbar Chaudhry while talking to Icon.
Hassaan Bin Shaheen, Akbar Chaudhry, Usman Mazhar, Ali Abdullah and Ammar Zaidi are taking up the challenge to bring open mics and stand-comedy to all parts of Pakistan
"It is the sequence of what we started in January this year. We did four open mics in January and February, one of which we did in Hyderabad. This was the first time a stand-up comedy show was held in Hyderabad and, to our surprise, we sold out," he adds.
"In June, we planned a tour and went to Multan, Faisalabad, Peshawar, Lahore and Islamabad. It happened for the first time in Peshawar, Faisalabad and Multan, and we sold out," he maintains.
The group plans to do a country tour later this year, in cities like Gujrat, Faisalabad and Multan.
However, it wasn't as easy to go 'sold out' as it sounds in Chaudhry's tone today.
"There was a time when we had no audience at all," Hassaan Bin Shaheen admits to Icon. "No one was ready to accept us unless we started winning on social media. Most of us converted our social media audience into our stand-up audience. I have been in stand-up comedy for a decade, but it's only now that we have started getting recognition."
Discussing the problems they faced over the years while uplifting the stand-up comedy scene in Pakistan, Hassaan says: "The biggest problem we face, as compared to other countries, especially India, is that we have no production support. We can't record our shows in better quality to utilise them on our social media accounts.
"Secondly, we have an infrastructural failure, as we don't have places that resonate the vibe required for stand-up comedy. We have very limited spaces to perform. So we then just perform in schools or coaching centres, because we also want to go more public — as we are still working to convert our digital audience into our stand-up audience," he explains.
Ali Abdullah adds censorship in the list of problems as well.
"We, in Pakistan, have very few topics to talk about. You never know, the person who bought a ticket for you can just make you a ticket to heaven," he jokes.
"I don't think that people in other countries need to filter like we do in Pakistan," he says, recalling: "We were awarded a fatwa of non-believers in our very first show. It was then I realised that, unfortunately, it is a part of the deal. You will get threats and you need to keep going, because you are working on a goal. Pakistan is a difficult place to dream."
Ali continues: "People don't realise, but the pain of being questioned on faith is the biggest. There are people who are making unacceptable and obscene jokes from the pulpit, but people think that is alright."
However, looking at how far they have brought stand-up comedy in Pakistan, Ali is hopeful that things will become better over time. Usman Mazhar is equally optimistic.
Usman, who is an actor by profession, began doing stand-up comedy back in 2016, only because he loved being a comic. "I didn't want to be a star through this, but I just got the hit," he tells Icon.
He discusses how Covid-19 left its impact on stand-up comedy.
"We were accelerating and people had started accepting us," he recalls. "We were getting some really good comics and were on a good path by 2019. But then Covid-19 happened and, like other professions, we also hit a speed bump."
Explaining how stand-up comedy can be a good investment for producers, he argues: "It is an untapped market, and right now is the time to invest into it. There is a huge gap in the market. Venues, productions, logistics, ticket-selling, all of these things are done by us all alone.
"If there is someone who can step into it right now, they can make good money in the long-term, since it [stand-up comedy] is here to stay," he says, adding: "But people are being greedy. They want instant money, therefore missing out on a long-term opportunity."
Usman accepts that the social media boom of Indian stand-up comedy has helped them a lot, since "people only start accepting things when they come from India."
He also praises fellow comedian Tabish Hashmi, who is now a late-night show host on a private TV channel. "Tabish helped us a lot, as he reached mainstream media. That also brought us so much acceptance. It all started making sense to a lot of people after they saw Tabish on national television.
"Now, people do take more interest in stand-up shows and they are also willing to be one of the comics," he adds. "Tabish is also doing a great job in making the audience's appetite for the jokes, but he is also getting threats for that. So yeah, credits to him."
Ammar Zaidi, the youngest of all in this troupe, explains to Icon how their process works.
"Right now, we are doing open mics, and open mics are not actually the shows," he says. "Here, we test our jokes in front of different audiences, until they're perfectly cooked. Then, we do a stand-up show, where we perform the jokes we cooked up in our open mics."
Responding to the question if stand-up comedy in Pakistan has grown enough to be the bread and butter of comics, Ammar says: "Well, yes. Now, if you are good, you can earn a good livelihood through stand-up comedy. Then you get writing work and other gigs related to stand-up comedy, corporate shows etc, which makes a fine earning.
"It is only growing with every passing day," he points out. "My family still does not know what exactly I am doing, but they are happy that I am doing something which is making me money and letting me afford a good lifestyle."
When asked about trolls and hecklers, Ammar responds: "The laughter that I get on the stage is way stronger than the trolling and heckling, so at the end of the day, it doesn't even matter."
Published in Dawn, ICON, September 3rd, 2023