KARACHI: The Pakistan Stock Exchange saw on Wednesday another trading session in which share prices moved within a small range owing to a lack of triggers.
Trading began with favourable sentiments as investors welcomed the news about the expected renewal of the International Monetary Fund loan programme, said Arif Habib Ltd.
The index of representative stocks hit an intraday high of 242.92 points before profit-selling gripped the bourse in the last trading hour. Investors' engagement remained dilatory, with third-tier equities leading the volume board.
According to analyst Ahsan Mehanti, stock prices inched up a little on easing political noise and the pre-budget rally on the PSX.
As a result, the KSE-100 index settled at 41,117.33 points, up 18.02 points or 0.04 per cent from the preceding session.
The overall trading volume increased 15.4pc to 105.6 million shares. The traded value went up 8.4pc to $9m on a day-on-day basis.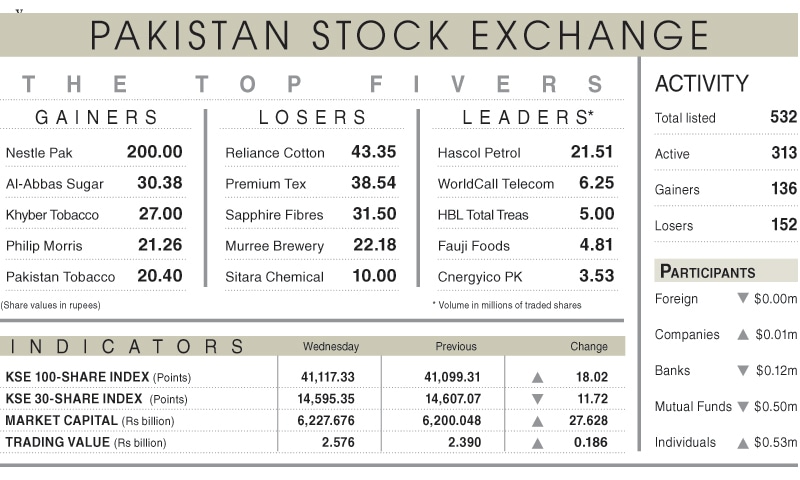 Stocks contributing significantly to the traded volume included Hascol Petroleum Ltd (21.5m shares), WorldCall Telecom Ltd (6.2m shares), HBL Total Treasury ETF (5m shares), Fauji Foods Ltd (4.8m shares) and Cnergyico PK Ltd (3.5m shares).
Sectors contributing the most to the index performance were exploration and production (57.9 points), miscellaneous (22.8 points), cement (18.8 points), food and personal care products (16.5 points) and pharmaceutical (15.8 points).
Companies registering the biggest increases in their share prices in absolute terms were Nestle Pakistan Ltd (Rs200), Al-Abbas Sugar Mills Ltd (Rs30.38), Khyber Tobacco Company Ltd (Rs27), Philip Morris Pakistan Ltd (Rs21.26) and Pakistan Tobacco Company Ltd (Rs20.40).
Companies that recorded the biggest declines in their share prices in absolute terms were Reliance Cotton Spinning Mills Ltd (Rs43.35), Premium Textile Mills Ltd (Rs38.54), Sapphire Fibres Ltd (Rs31.50), Murree Brewery Company Ltd (Rs22.18) and Sitara Chemical Industries Ltd (Rs10).
Foreign investors were net sellers as they offloaded shares worth $0.23m.
Published in Dawn, May 25th, 2023