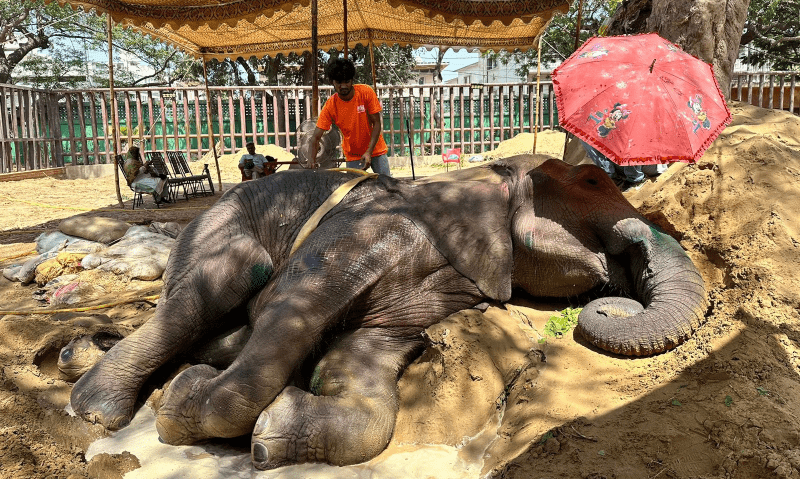 KARACHI: A post-mortem examination report released on Thursday by the Karachi Metropolitan Corporation (KMC) shows that zoo elephant Noor Jehan suffered from multiple serious health complications, mainly due to lack of proper care, and that she was infected with a potentially fatal blood parasite.
The technical report prepared by experts at the University of Veterinary and Animal Sciences, Lahore, doesn't declare any cause of death.
Surprisingly, it also couldn't find any evidence of hematoma — a pool of clotted blood usually caused by a broken blood vessel — in her pelvic region, which was "detected" by Four Paws, the international group working for animal welfare.
It might be recalled that the 17-year-old ailing elephant had a painful, tragic death last April. She underwent emergency diagnostic procedures on April 5 by a team of foreign vets, but collapsed days later after she fell in her pond. She remained in critical condition for nine days before passing away.
It finds no evidence of haematoma
According to the report's "presumptive diagnosis based on the history provided, clinical signs, pattern of disease, postmortem findings and microscopic examination, the tentative diagnosis is blood parasite infestation."
The elephant, the report says, Noor Jehan had bacterial and parasitic infections (Anaplasmosis and Trypanosomiasis). One spread by tick bites and the other transmitted by tsetse fly.
"She was treated accordingly for both anaplasmosis and trypanosomiasis, but it could not recover as after giving treatment again blood sample was collected and the animal was still positive for trypanosome," the report says, without mentioning the specific treatment offered to the animal.
Long-term neglect
The experts found the animal's body in poor condition with multiple patches of discolored, thick and scaly skin.
"Tusks were absent. Eye conjunctiva was pale. Eyes were sunken and the animal was dehydrated. Variably sized, irregular, poorly demarcated, flat to depressed, red-tan and softer areas of necrosis and ulceration were seen on right and left cervical, thoracic, abdominal, axillary, groin regions as well on the medial (Inner) surface of both ears.
"Both lungs were deep red (congestion) and edematous. There was subcut edema, ascites and hydrothorax. Both ventricles were full of chicken fat clots (indicative of slow death).
"The margins of the liver were round and the hepatic lymph node was edematous and haemorrhagic. Bile ducts were distended. Blood was thin and easy to flow (Indicative of low RBC count). Submandibular lymph node was swollen, edematous and moderately firm. Spleen was congested and moderately enlarged and there was lymphoid hypertrophy.
"No hematoma was observed in the pelvic region," the report says.
Speaking to Dawn on the condition of anonymity, senior vets said that the report contained findings that pointed to both short and long-term serious lapses in elephant care.
"Though Noor Jehan's condition deteriorated fast soon after her fall in her pond, she was a victim of neglect for years. The poor animal spent most part of her life in chains in a small, barren enclosure along with her partner Madhubala. These deplorable conditions were enough to make any elephant agitated, depressed and ill," a zoo official shared.
Both elephants were often found hitting their heads and bodies against the ironed bars of the cage, he added.
"Areas of necrosis, ulceration and haemorrhages were seen on the cranial aspects of periosteum of tibial tuberosity, tibial crest, and articular cartilage of stifle joint of both right and left hind limb. The skeletal muscles of that area were also necrosed and degenerated," the report says, indicating that the animal had been ill for a long time.
Sources also stated that the blood parasitic infection Noor Jehan suffered was potentially fatal, if not managed in time and with the right medicines.
"It was a clear case of late diagnosis. Even then, the immediate cause of her death was the lack of quality rescue and emergency care required at the time of her fall in her pond and the fact that the ailing animal was unable to stand up on her own," a source said, adding that the zoo staff had no expertise in elephant care.
Background
Noor Jehan was found to have a large haematoma in her abdomen, causing edema in the reproductive organs, blocking the passage of urine and stool. The examination was conducted by Four Paws.
The team had recommended medication and physical therapy for the seriously ill elephant. The zoo staff, however, reportedly demonstrated negligence, creating serious concerns over the survival and well-being of the ailing elephant among animal activists.
In August last year, the same team performed major tusk surgeries on Noor Jehan and Madhubala after an intervention of the Sindh High Court, which was approached by the Pakistan Animal Welfare Society (Paws) and activists worried over the animals' plight.
In 2021, the team submitted a report to the court, recommending a series of steps for elephants' welfare including their relocation from the zoo to Safari Park for better environment.
Noor Jehan and Madhubala, along with two other elephants currently housed in the Safari Park, were brought to Karachi from Tanzania in 2010 at a very young age.
Published in Dawn, May 19th, 2023