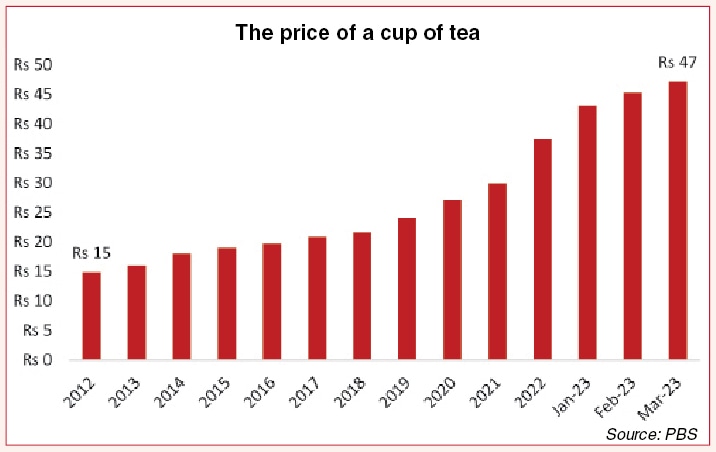 If the country shares a single all-consuming addition, it is the morning cup of chai. But many do not have the willpower to, or even the luxury of, limit intake to a single cup given the necessary sugar and caffeine hit required to sustain momentum throughout the day.
Thus the increase in its price by 3x over the last decade, according to data by the Pakistan Bureau of Statistics, hits wallets harder than people realise.
A humble cup of everyday caffeine costs roughly Rs50. If a person consumes three cups a day, every day, the number multiplies to Rs4,500 a month. In a country where the minimum wage is Rs15,000, tea drinking can consume a whopping 30pc of income.
The largest importer of tea in the world, Pakistan's annual imports are roughly half a billion dollars. To put things in perspective, if the entire country forwent drinking tea for two years, the amount saved would be roughly equal to the last tranche of the International Monetary Fund loan that the country is desperately trying for. No wonder Minister Ahsan Iqbal made the meme-worthy comment about decreasing tea consumption last year.
Instead of importing using borrowed money, Pakistan's agrarian economy should consider growing local tea. There was a time when Pakistan was a bulk producer and exporter of tea, but the country's split in 1971 left the country perpetually dependent on imports for its caffeine addiction.
Local farmers are not interested in cultivating arguably one of the most in-demand imports despite having some tracts of land suitable for growing tea leaves. Not only is the initial investment for plantations high, but it also takes years to recoup since it takes five to six years before the leaves can be picked to be made into tea.
Tea is imported, mostly from Kenya, and blended to create the distinctive taste and strength of each brand. The rest is all marketing.
As the rupee depreciates and inflation spirals upwards, increasing the price of milk, creamers and sugar, the sweet hit of caffeine in the morning will continue to become less affordable.
Published in Dawn, The Business and Finance Weekly, April 10th, 2023
Follow Dawn Business on Twitter, LinkedIn, Instagram and Facebook for insights on business, finance and tech from Pakistan and across the world.