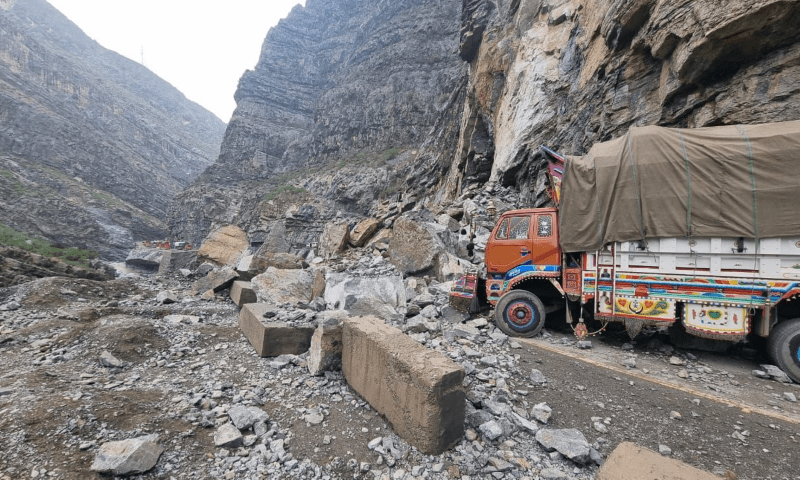 The N-50 highway connecting Khyber Pakhtunkhwa and Balochistan was blocked on Sunday at Dhana Sar and Manikhawa locations in Balochistan's Sherani district after torrential rains caused landslides in the area, leaving vehicles stranded.
Balochistan Provincial Disaster Management Authority (PDMA) Director General (DG) Naseer Khan Nasir told Dawn.com that the National Highway connecting KP's Dera Ismail Khan and Balochistan's Zhob was "completely closed off due to landslides" at the above-mentioned locations.
He added that the recent torrential rains in KP's bordering mountains and the Koh-i-Sulaiman range had led to floods in Balochistan and bordering areas of KP.
The PDMA official further said a large number of passenger buses and smaller vehicles were stranded.
He added that the administration had stopped passenger buses coming from Islamabad, Peshawar and Swat while those going from Balochistan to KP were stopped at Zhob and Sherani.
The PDMA DG said "heavy machinery and teams" have reached the location to remove the rubble and aid in the rescue efforts.
Sherani Deputy Commissioner Hazrat Wali Kakar said efforts to restore traffic on the highway were "underway with the help of heavy machinery". He further said it could take 18-20 hours to clear the highway.
On March 30, the N-50 highway had received heavy rainfall that affected traffic since a large number of coaches and other vehicles had been reportedly stranded at different locations.
One person had been killed in Gwadar after being struck by lightning while traffic between Balochistan and Sindh had remained suspended after a temporary bridge on the Bolan River was washed away in a flash flood.
The new spell of heavy rain, which started on March 28, had continued the next day in Quetta and surrounding areas, submerging parts of the provincial capital.
Rainwater had entered settlements, particularly in slums, while a swollen stream threatened human settlements on the outskirts of the city. The people of these areas had experienced devastating monsoon floods last year and could face a similar situation if the new spell of rain continued.
2 killed, 5 injured in KP roof collapses
Separately, two women were killed on Sunday while three — including two children — were injured after a house roof collapsed in Peshawar due to rain, the KP PDMA said.
The PDMA's report named the deceased as Reshma, 22 and Riyasata, 55, while the injured included a 13-year-old girl and a 65-year-old man. The damage to the house infrastructure was recorded as partial.
On Saturday, two children were injured in a similar incident in KP's Orakzai district following torrential rains.
According to the PDMA, the roof of a "double-story room" collapsed, injuring the eight-year-old and nine-year-old girls.
Last week, five people were killed and 23 injured in rain-related incidents in Mardan, Peshawar, South Waziristan and Khyber districts.