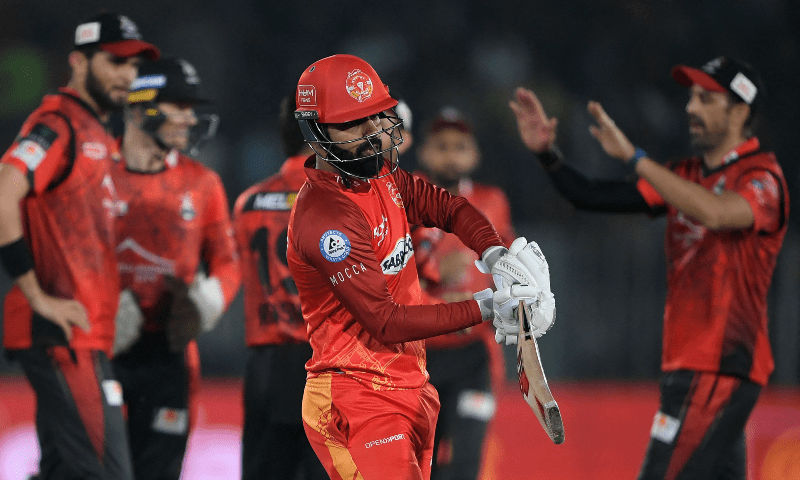 RAWALPINDI: In a battle between the best in the HBL Pakistan Super League, Islamabad United were nowhere near their otherwise high standards. As a horrific show on the field and bad luck hurt the two-time champions, Lahore Qalandars displayed utter ruthlessness to take the contest by 119 runs here at the Pindi Cricket Stadium on Thursday.
The protagonists of the Qalandars were their seasoned campaigners Fakhar Zaman and Rashid Khan. After Fakhar had ridden on luck for a blistering century to boost the Qalandars to 226-5, Rashid put United in a spin with four wickets as the hosts were bundled out for 107, dearly missing dangerman Azam Khan, who was taken for X-Rays after injuring his left hand while keeping wickets.
The result confirmed the Qalandars' spot in the Qualifier — which gives them two opportunities to book a place in the March 19 final. United, meanwhile, will have to win their remaining fixture against Peshawar Zalmi to have the same safety.
After the Qalandars had opted to bat first, Fakhar made the most of United's blunders in the field to bludgeon 115 off 57 balls — an innings studded with eight fours and as many sixes.
On a surface that provided bounce and movement to the fast bowlers early on, Fakhar found a genuine edge off Hasan Ali's pace in the second over, only to take a sigh of relief as Asif Ali dropped a straightforward chance at first slip.
After the swashbuckling southpaw had raced to 71 off 29 balls, Hasan turned culprit when he dropped an easy chance to get Fak­har out off Shadab Khan's leg-spin in the 10th over.
Sandwiched between both occasions — and afterwards as well — was absolute carnage from Fakhar. He celebrated his first reprieve with three boundaries against pacer Fazal Haq Farooqi before targeting Faheem Ashraf for two fours and six to boost the Qalandars to 65-1 by the end of the powerplay.
Fakhar brought up his 50 in just 24 balls after smacking Shadab Khan over his head for a six and added another maximum as he cleared the midwicket boundary.
Kamran Ghulam, who had been more onlooker to Fakhar's show from the other end by that point, got into his groove with a four and two sixes over the leg-side boundary off Mubasir Khan's off-spin in the ninth over and once again saw Fakhar dispatch Shadab for two sixes before he got his second life.
Kamran fell to Wasim in the 11th over after adding 41 off 30 to the score. After Fakhar survived a review for lbw against Faheem in the 14th over, he flicked Mohammad Wasim for a towering six later and brought up his century in just 50 balls.
Sam Billings, who had replaced Kamran at the crease, joined the party with a four and a six off Wasim and Fakhar added another maximum off Faheem in the 17th over before losing his wicket as he holed Hasan out to Wasim at deep square-leg to depart in the next.
The penultimate over — bowled by Farooqi — saw Billings (32 off 22) and David Wiese lose their wickets after hitting a six each before the incoming Rashid Khan got off the mark against his fellow Afghan with a boundary.
Rashid cleverly flicked Wasim past short fine-leg for four and pulled the pacer over midwicket for a six in the final over to give the Qalandars a formidable score that United never really looked like chasing down.
They were already way behind with just 50-2 on the board by the end of the powerplay after Zaman Khan had given the Qalan­dars breakthroughs in form of Rahmanullah Gurbaz and Colin Munro's wickets.
With the hunting ground perfectly set up for Rashid, the crafty spinner preyed on Shadab to start with, as the United skipper skied a half-tracker for wicket-keeper Billings to take an easy catch after slogging the bowler for a six.
Opener Alex Hales was the next to depart as he edged Wiese behind to leave United reeling at 63-4 by the end of the eighth over before Rashid returned to clean up Mub­asir Khan with a wrong'un.
With Azam Khan missing from their ranks, United had no one to look up to pull them out of the quagmire they were in. And when Faheem was trapped lbw to become Rashid's (4-21) third victim before the spinner returned to castle Asif, it was effectively over for United.
Haris got two lower-order wickets — Hasan and Wasim — to wrap up the proceedings and almost secure the Qalandars' position at the top of the PSL standings.
Current Standings (Tabulated under: teams, matches, wins, lost, points, net run-rate)
Lahore 9 7 2 14 +1.494
Islamabad 9 6 3 12 -0.713
Multan 8 4 4 8 +0.473
Peshawar 8 4 4 8 -0.580
Quetta 9 3 6 6 -1.120
Karachi 9 2 7 4 +0.358
SCOREBOARD
LAHORE QALANDARS:
Batters & modes of dismissals R B 4s 6s SR
Abdullah Shafique c Hales b Fazalhaq 1 2 0 0 50.00
Fakhar Zaman c Wasim b Hasan 115 57 8 8 201.75
Kamran Ghulam c Faheem b Wasim 41 30 4 2 136.66
Sam Billings c Hasan b Fazalhaq 32 22 2 2 145.45
Sikandar Raza not out 1 4 0 0 25.00
David Wiese b Fazalhaq 6 2 0 1 300.00
Rashid Khan not out 15 5 2 1 300.00
EXTRAS (B-1, LB-4, NB-2, W-8) 15
TOTAL (for five wickets, 20 overs) 226
DID NOT BAT: Hussain Talat, Shaheen Shah Afridi, Haris Rauf, Zaman Khan
FALL OF WICKETS: 1-3 (Abdullah), 2-125 (Kamran), 3-195 (Fakhar), 4-203 (Billings), 5-209 (Wiese)
BOWLING: Fazalhaq 4-0-40-3 (2w), Hasan 4-0-33-1 (4w, 1nb), Faheem 4-0-43-0 (1w, 1nb), Wasim 4-0-48-1 (1w),
Mubasir 2-0-25-0, Shadab 2-0-32-0
ISLAMABAD UNITED:
Batters & modes of dismissals R B 4s 6s SR
Rahmanullah Gurbaz c Haris b Zaman 15 15 1 1 100.00
Alex Hales c Billings b Wiese 18 16 0 1 112.50
Colin Munro c Billings b Zaman 11 6 2 0 183.33
Shadab Khan c Billings b Rashid 12 7 1 1 171.42
Mubasir Khan b Rashid 3 6 0 0 50.00
Asif Ali b Rashid 7 8 0 0 87.50
Faheem Ashraf lbw b Rashid 4 8 0 0 50.00
Hasan Ali c Abdullah b Haris 18 13 1 2 138.46
Mohammad Wasim c Billings b Haris 8 11 1 0 72.72
Fazalhaq Farooqi not out 0 1 0 0 0.00
EXTRAS (B-4, W-7) 11
TOTAL (for nine wickets, 15.1 overs) 107
DID NOT BAT: Azam Khan
FALL OF WICKETS: 1-32 (Gurbaz), 2-44 (Munro), 3-59 (Shadab), 4-63 (Hales), 5-68 (Mubasir), 6-77 (Faheem), 7-93 (Asif), 8-101 (Hasan), 9-107 (Wasim)
BOWLING: Shaheen 2-0-18-0, Zaman 3-0-17-2 (1w), Haris 2.1-0-16-2, Rashid 4-0-21-4 (1w), Wiese 3-0-17-1 (2w), Raza 1-0-14-0 (1w)
RESULTS: Lahore Qalandars won by 119 runs.
Published in Dawn, March 10th, 2023