Heaviest sunflower head breaks world record
Welsh farmers broke their own Guinness World Record when they harvested a sunflower head that weighed 14.21 pounds. Cwbran farmer Kevin Fortey, grew the massive sunflower with help from his brother, Gareth; son, Jamie; and mother, Marjorie.
The sunflower weighed 2.71 pounds more than the Fortey family's previous record-breaking sunflower head, harvested in 2021. The sunflower is from a family seed line called the Fortey Giant Sunflower, which stretches back more than 100 years.
"Growing any plant takes time, dedication, commitment, experience and skill. The heavier-headed sunflower plants need a better-planned structure to grow up as the sheer weight of the heads couldn't be grown without some form of support," Fortey said.
Baby goat with spinal condition fitted with wheels
A baby goat brought to a Georgia sanctuary with a spinal disease is learning to run for the first time in her life, thanks to a custom-made set of wheels.
TMMA Farms and Sanctuary in Walton County said the goat, named Itty Bitty, was born in December 2022 with a spinal disease similar to spina bifida. Itty Bitty's condition prevents her from using her back legs, so she was initially getting around by scooting on her bottom.
Veterinarians determined surgery would not help Itty Bitty. She is now learning to walk and run for the first time in her life after the sanctuary had her outfitted with a pair of wheels. She was running on her own within 24 hours of using her new wheels.
Snake looks like a balloon after gulping down a huge egg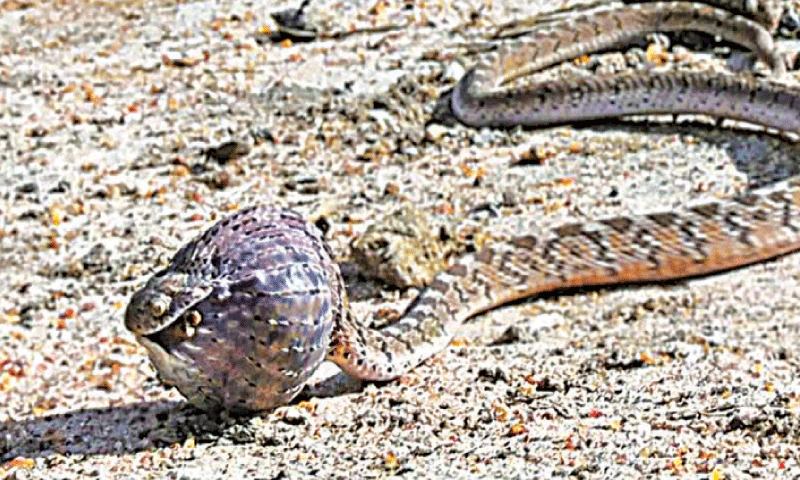 Field guide Frank De Beer was sitting next to a water hole, enjoying a hot cup of coffee when he heard a pair of very unhappy Blacksmith Lapwings. They were mobbing something on the ground. Blacksmith lapwings are common in the savannahs of sub-Saharan Africa. These birds are territorial and build nests on the ground, in open spaces.
He then saw a snake slithering in the direction of the lapwings. These snakes are famous for their ability to swallow eggs whole.
De Beer said, "The egg eater soon reached the nest, and began biting at one of the lapwings' eggs. The lapwings continued to attack, but within seconds, the snake was able to grab an egg.
"Then, with an egg in its mouth, the snake began slithering away in one of the most comical and bizarre manners. Mesmerised by what was unfolding in front of me and my guests, I was just ecstatic that I was able to capture it all on film."
1908 Harley-Davidson becomes priciest bike auctioned
A rare Harley-Davidson motorcycle, built in 1908, has become the most expensive motorcycle ever sold at an auction. It was sold for $935,000 after auction fees last month at the Mecum Auction in Las Vegas, The Milwaukee Journal Sentinel reported.
The bike was named Strap Tank because its oil and fuel tanks are attached to the frame with nickel straps. The bike is one of only 12 such models in the world. A 1907 Strap Tank sold for $715,000 after fees, but didn't go for as much as the record-setting 1908 Strap Tank because it was never restored.
The record-breaking bike had many of its original parts, making it even more rare, said Greg Arnold, Motorcycle Division Manager at Mecum Auctions.
Published in Dawn, Young World, March 11th, 2023