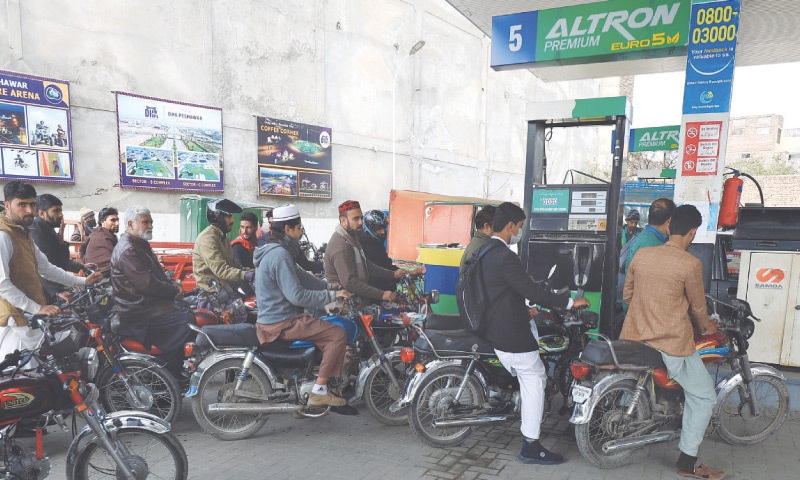 KARACHI: Citizens continued to complain of the unavailability of fuel at pumps across the country on Wednesday, even as a cabinet minister warned hoarders of "dire consequences", and the regulator sought strict action against such practices, Dawn.com reported.
The fuel situation is particularly troubling in some major cities, including Lahore, Guj­ranwala, Faisalabad, Khane­wal, Sialkot and Peshawar. Citizens took to social media to complain about petrol pumps that have either meagre or no supply of petrol for the last several days, allegedly due to a supply squeeze from oil marketing companies (OMCs).
In a presser, Minister of State for Petroleum Dr Musadik Malik asserted that the country had sufficient fuel supplies. However, he said: "Some people, like always, are hoarding… I want to request those people to stop today and consider this request a warning… you won't be able to hoard and rob the people's right."
"This is our resolve and you will have to bear very strict consequences if you persist. We will cancel your licences. Your business will end as a result of your attempt to avail the benefits for four to five days," he said.
Minister threatens those creating 'artificial shortage' with licence cancellation; Ogra asks Punjab to act against hoarders
The minister was of the view that a "few people" were involved in creating an artificial shortage with the aim of selling fuel in the future at exorbitant rates.
Regarding current stocks of petroleum products, the minister said: "Sufficient useable stocks of petroleum products are available in the country to meet petrol needs for 20 days and diesel for 29 days. This exc­ludes cargoes arriving and waiting in the sea for berthing."
Mr Malik said prices of petroleum products were revised by the government as per the sch­eduled time, international market and rupee-dollar parity, adding that at the moment "there is no plan to raise prices".
Replying to a question, he said an agreement with Russia would hopefully be finalised, following which low-cost crude oil would start arriving in Pakistan.
Ogra seeks action
Earlier on Wednesday, the Oil and Gas Regulatory Authority (Ogra) wrote a letter to the provincial chief secretary asking him to take action against those illegally hoarding petrol and diesel stocks.
In the letter, a copy of which is available with Dawn.com, Ogra's Senior Executive Direc­tor Enforcement Sohail Ahmed Tariq wrote that the authority had identified, thro­ugh market intelligence, locations in Punjab that "might be in use to dump/store [petrol­eum] products for inventory gains".
These 19 locations were contributing to the existing shortage of petroleum products in different cities of Punjab, thereby committing illegal acts, he added.
The letter asked the Punjab chief secretary to take immediate action against the culprits to prevent inconvenience to the public.
Traders and industry sources had warned last month that Pakistan could face a crunch in fuel supplies in February as banks have stopped financing and facilitating payments for imports due to depleting foreign exchange reserves.
Published in Dawn, February 9th, 2023