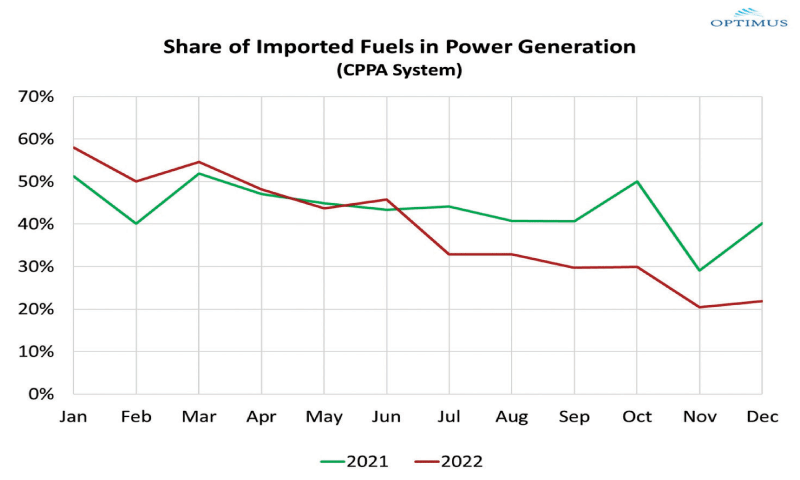 KARACHI: There's going to be a glut of hydel-based electricity, and it won't even remotely be cheap.
"People think hydel electricity is sasta. That's absolutely wrong. All run-of-the-river projects, except Dasu, will have 10-11 cents (per unit cost)," said Shahid Sattar, energy expert and executive director of the All Pakistan Textile Mills Association, while participating in a panel discussion on Thar energy projects on Monday.
As much as 20,000 megawatts of hydel capacity is in the pipeline, with nearly all projects priced at 10-11 cents a unit, he said.
"They're all in IPP (independent power producer) mode. Where's the room for expanding cheaper solar or Thar energy? You've already tied up the pie," he said.
The share of hydel in the power generation mix for the first half of 2022-23 was 32.2 per cent versus the 14pc of imported and local coal.
"In the medium term, I don't see any relief in energy costs. These take-or-pay contracts have to be honoured. Hydel projects are a must-run," he said while noting that Pakistan will be bound to pay heavy capacity payments, which constitute about 99pc of the cost of hydel power.
The country has tied up all upcoming capacity expansion in hydel projects, he said, adding that reducing the cost of energy will remain a pipedream unless the government gets out of these long-term power purchase agreements.
"We have to get out of them. There's no other way."
Energy sector analyst Ali Khizar said the government must prioritise the transmission network to evacuate electricity from Thar-based power plants to the rest of the country. The situation isn't different in the case of the Jhimpir wind corridor, which can produce thousands of megawatts but lacks the transmission infrastructure for smooth evacuation.
Some of the coal-based power plants use imported fuel because there's no excess output from the current mining operations in Thar. The Private Power and Infrastructure Board (PPIB) is in the process of initiating a bankable feasibility study for converting existing three imported coal-based power plants to Thar coal.
Plants by Engro Powergen Thar Ltd, Thar Energy Ltd, ThalNova Power Ltd and Thar Coal Block-1 Power Generation Company Ltd are producing about 2,640MW of energy. These power plants usually rank high on the merit order, which is in the ascending order of price per unit of electricity.
Published in Dawn, February 7th, 2023
Now you can follow Dawn Business on Twitter, LinkedIn, Instagram and Facebook for insights on business, finance and tech from Pakistan and across the world.