KARACHI: Bulls extended their gains on Wednesday as a wave of optimism swept up the trading floor on positive news triggers.
Arif Habib Ltd said the index of representative shares opened at a higher level as bulls pushed up the benchmark to an intraday high of 889.97 points.
Investors took stock of the recent developments on the economic front that have paved the way for the revival of a loan programme with the International Monetary Fund (IMF). The government appears to be taking all possible measures to revive the IMF programme, the brokerage said.
Another positive trigger came from news reports suggesting that gas tariffs will be raised in the next meeting of the Economic Coordination Committee to help resolve the gas sector's circular debt issue in line with the IMF requirements.
As a result, the KSE-100 index settled at 39,784.90 points, up 729.25 points or 1.87 per cent from the preceding session.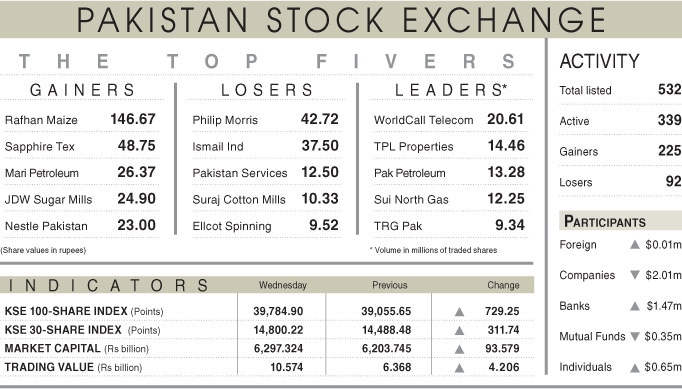 The overall trading volume increased 49.9pc to 269.5 million shares. The traded value went up 65.7pc to $45.8m on a day-on-day basis.
Stocks contributing significantly to the traded volume included WorldCall Telecom Ltd (20.6m shares), TPL Properties Ltd (14.4m shares), Pakistan Petroleum Ltd (13.2m shares), Sui Northern Gas Pipelines Ltd (12.2m shares) and TRG Pakistan Ltd (9.3m shares).
Sectors contributing the most to the index performance were banking (290.6 points), fertiliser (106 points), exploration and production (98.8 points), cement (49.9 points) and technology and communication (32 points).
Companies registering the biggest increases in their share prices in absolute terms were Rafhan Maize Products Company Ltd (Rs485.91), Sapphire Textile Mills Ltd (Rs76.35), Mari Petroleum Company Ltd (Rs26.37), JDW Sugar Mills Ltd (Rs24.90) and Nestle Pakistan Ltd (Rs23).
Companies that recorded the biggest declines in their share prices in absolute terms were Philip Morris Pakistan Ltd (Rs42.72), Ismail Industries Ltd (Rs37.50), Pakistan Services Ltd (Rs12.50), Suraj Cotton Mills Ltd (Rs10.33) and Ellcot Spinning Mills Ltd (Rs9.52).
Foreign investors were net buyers as they purchased shares worth $0.4m.
Published in Dawn, January 26th, 2023