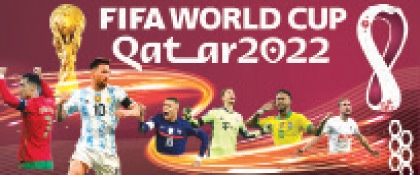 Eto'o knees blogger in viral World Cup video
DOHA: Former Cameroon World Cup star Samuel Eto'o went into hiding on Tuesday after appearing to knee an Algerian blogger in the face in a viral video.
The 41-year-old Cameroon federation president and ambassador for the Qatar World Cup flew into a rage after being approached as he left Brazil's 4-1 win over South Korea in Doha on Monday night.
The video showed the four-time African player of the year breaking free from people seeking to restrain him and kneeing the face of the blogger, named as Sadouni SM.
The man fell back after being struck. Eto'o was pulled away and has not commented or been seen since.
A Cameroon federation official said that former Barcelona striker Eto'o did not want to speak about the incident.
The African football legend was surrounded as soon as he left the 974 Stadium where the round-of-16 match was played.
Wearing a blue baseball cap, he is seen allowing selfies with some fans before he was approached by the Algerian.
It is not known what comment was made, but Eto'o handed his mobile phone to a man before surging at the blogger to deliver the blow with his knee.
Sadouni SM said in a video posted online Tuesday that his camera and microphone had been "smashed" in the incident.
"He hit me," the man adds, pointing to his chin.
"I did all that for Algeria," Sadouni SM says in the video. "I am at the police station now for the inquiry.
"This video must be shared. As Eto'o is a celebrity I am afraid they will cover up the inquiry, but I trust the Qatari police," he added.
Qatar's World Cup organising committee did not immediately comment on the incident.—AFP
German team's director leaves role
DOHA: Germany team director Oliver Bierhoff has become the first casualty of their first-round World Cup exit in Qatar after agreeing to leave his post two years before his contract ends, the DFB said on Tuesday.
Former Germany international Bierhoff, who had been in his post as team director for the last 18 years, was widely criticised following their second consecutive shock group-stage exit at a World Cup.
"Oliver Bierhoff has won a lot of merits for the DFB," said DFB President Bernd Neuendorf in a statement. "Even if the last few tournaments lagged behind the sporting goals that had been set, he will be associated with big moments."
Bierhoff played a part in helping Germany win the last of their four World Cup titles in 2014 and Neuendorf said his efforts would not be forgotten.
"He will always be linked with the World Cup success in Brazil," he added. "Even in turbulent times he always followed goals and visions."
Germany crashed out of the tournament in Qatar after losing to Japan, drawing with Spain and beating Costa Rica in the last Group 'E' match. Germany coach Hansi Flick, who took over after last year's Euros said Bierhoff's departure was a big blow.
"It is difficult for my coaching staff and me to imagine how the gap that is created by Oliver's departure can be filled on both a sporting and a personal level," Flick said in a statement. "Our cooperation was always marked by loyalty, team spirit and reliability. Solidarity was the DNA of the team."—Reuters
Female fans feel safe at Qatar World Cup
DOHA: Many supporters were up in arms at the idea of the World Cup taking place in a conservative country like Qatar where the sale of alcohol is highly restricted, but for some female fans it has led to a safer experience at the tournament.
"I was expecting a very dangerous place for women. I didn't think I was going to be safe here ... from coming here that's not been the case, as a travelling female fan I can say that I have felt very safe," England fan Ellie Molloson told Reuters.
The 19-year-old said that the lack of alcohol had contributed to a less bawdy atmosphere around the games at the World Cup, but in her opinion it was mostly cultural.
"I think it actually is due to a more socially conservative society. I think alcohol contributes a bit more to hostility, rather than things like catcalling, wolf whistling and sexual harassment," she explained.
Argentina fan Ariana Gold, 21, told Reuters she was nervous before travelling to the Middle East as she did not know what to expect.
"It's really nice for women, I am very fond of football and when I was in my country I thought maybe this (Qatar) is an area for only men, and maybe it is uncomfortable for women but no, I am very comfortable and it is very nice here," she said.—Reuters
Son apologises after Korea's World Cup exit
DOHA: Son Heung-min apologised after his South Korean side exited the World Cup following a sobering 4-1 defeat to favourites Brazil in the last 16 in Qatar.
The captain and talisman was powerless as Brazil scored four times in the first half on Monday, before Paik Seung-ho netted a 76th-minute consolation for the outclassed Koreans.
South Korea have still never won a World Cup knockout tie outside of their home country.
"I can only apologise to our fans for not living up to their expectations," said the 30-year-old Tottenham Hotspur's forward, who played in a mask in Qatar following facial surgery last month. "We did our best but I think we played a very difficult game," he told TV reporters.
"Still, there is no doubt that all the players battled proudly, devoted themselves and worked hard to get this far.
"The players and staff really did their best to prepare for this match, so I hope you understand."
Published in Dawn, December 7th, 2022