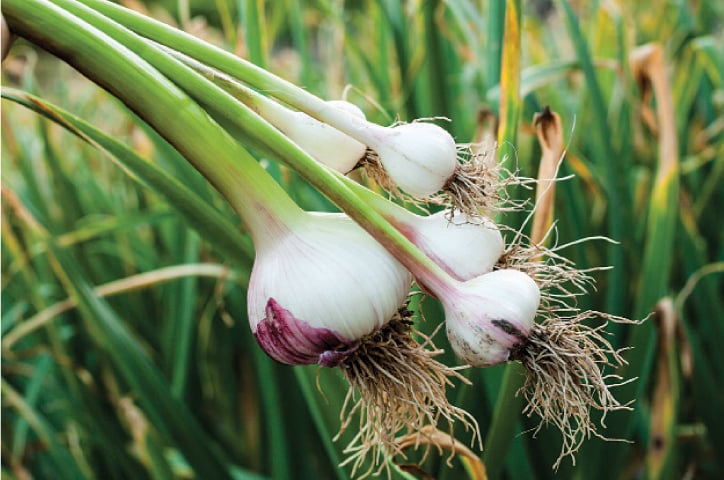 If Pakistan hopes to make meaningful progress on building up much-needed foreign exchange reserves, opting for an export promotion strategy is not enough. Our agriculture fields will have to become radically more productive to be ready for import substitution, at least in crops, where Pakistan has favourable agro-climatic conditions as well as a comparative advantage. One case in point is garlic — an important marketable condiment.
Pakistan's local production of garlic meets only two-thirds of its domestic needs. For that reason, Pakistan imported 61,688 tonnes of garlic worth $68.7 million (Rs11 billion) in 2021, whereas the import value was even higher in 2020, standing at $102m, according to International Trade Centre data.
Surprisingly, due to conducive agro-climatic conditions, Pakistan's yield (tonnes per acre) is higher than that of India and Bangladesh, the second and third world's largest garlic producers, respectively. Additionally, Pakistan's farm-gate prices remain far lower than import parity prices. Even with the current production cost and yield, farmers consider it more remunerative vis-à-vis other crops, grown during November-March.
Therefore, the country has good potential for expanding its garlic production to achieve self-sufficiency through progressive import substitution, provided that farmers are facilitated to overcome the challenges they face. For such a large import substitution of a high-value crop, the government has two strategic choices, though these are not mutually exclusive and can be pursued in parallel.
Despite having a yield higher than that of India and Bangladesh, the second and third largest producers in the world, Pakistan is yet to be self-sufficient in garlic production
First, increasing garlic output through expansion of garlic crop area — extensification approach. Garlic is cultivated on 13,347 hectares, primarily in Punjab and Khyber Pakhtunkhwa, with a production volume of 127,463 tonnes (2020-2021). With a current yield of 9.55 tonnes per hectare, Pakistan only needs an additional 6,460 hectares to bridge the current demand gap. This target is achievable as there are at least 15 districts in Pakistan where garlic is cultivated on a significant area.
Seed (cloves of garlic) is a major cost element, comprising over 70 per cent of the total cost, and therefore serves as a primary barrier to entry for smallholders. However, seed-related support is required just once, as farmers use their home-grown seed for the next crop. Since the government is currently facing financial challenges, a far better option is to provide interest-free loans to potential garlic farmers. Fertiliser is the second major cost element, which can also be made part of such a loan.
Garlic planting and harvesting have traditionally been labour-intensive. Labour availability at affordable rates has been a major limiting factor in the expansion of crop area. However, mechanisation with locally manufactured tractor-driven garlic planters and diggers (harvesters) — recently introduced in the local market — will hopefully prove to be a major enabling factor for an increase in area.
Second, increasing garlic production through yield improvement (intensification approach) is another option. China's yield is currently 25 tonnes per hectare in comparison to Pakistan's 9.5 tonnes per hectare. If Pakistan has to rely only on this option then it needs to increase its yield by at least 50pc (up to 14 tonnes per hectare) to offset current imports.
But, intensification based on using the right agricultural inputs and improved farming practices can increase yield to a certain level. Beyond this, the use of high-yielding varieties is a must.
Four years ago, the National Agriculture Research Center developed a new garlic variety: NARC G-1. There is immense media hype regarding its yield potential, which is claimed to be at 25-30 tonnes per hectare. Such higher potential, which can transform the entire garlic sector of Pakistan, has already attracted the attention of thousands of prospective farmers. However, the variety is still in the seed multiplication phase and has not hit the retail market. Therefore, its commercial success is yet to be proven.
Undeniably, an increase in production demands investment in storage facilities. Unlike the potato sector, where private sector has invested billions of rupees in the last two decades for setting up cold storages, garlic sector still lacks such specialised facilities, which are very common in several countries and help stabilise the supply and prices throughout the year.
Initially, setting up a few cold storage facilities in collaboration with the private sector and international development agencies can help establish a proof of concept. This will definitely decrease technical and operational risks perceived by potential investors.
The central question is how to engage farmers to increase garlic area or/and enhance crop productivity, using targeted interventions. One of the most successful tools is the cluster-based approach, as adopted by several countries to boost the production of various crops.
Although a lot of efforts have been made in Pakistan to develop industrial and small and medium enterprise clusters, production clusters in the agriculture sector have received little attention, despite the fact that relatively less time, effort and investment are required here to achieve tangible results.
Khalid Wattoo is a farmer and a development professional Rahema Hasan is a political economist and graduate of the London School of Economics and Political Science
Published in Dawn, The Business and Finance Weekly, November 28th, 2022
Now you can follow Dawn Business on Twitter, LinkedIn, Instagram and Facebook for insights on business, finance and tech from Pakistan and across the world.