Express Entry
The wait is over. A film based on the life and work of one of Pakistan's most famous cricketers, Shoaib Akhtar, aka the 'Rawalpindi Express', is on the anvil. Who is going to play his character? Well, it's none other than musician Umair Jaswal. The project, directed by Faraz Qaiser, will be shot in Pakistan, the UAE, Australia and New Zealand. It is expected to see the light of day in November 2023. Truly an exciting prospect! We'll have to wait and see whether the storyline includes all those little interesting aspects of his career where Shoaib A has been more than express with his tongue as well.
Grammy Again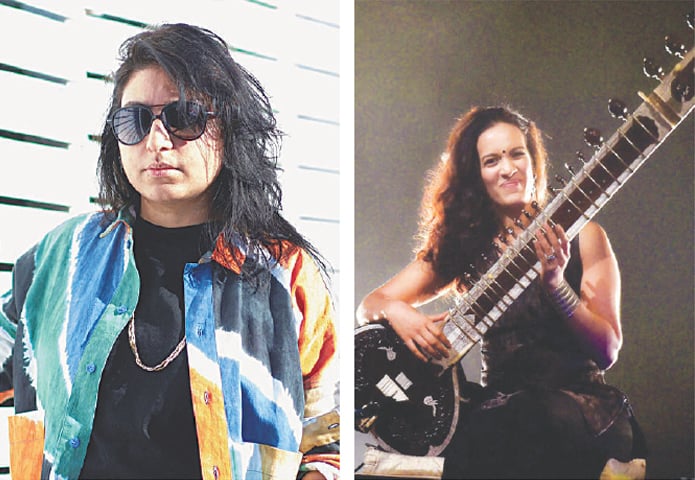 There's no stopping our very own internationally renowned vocalist Arooj Aftab. After becoming the first Pakistani to win a Grammy award last year, the singer has now again been nominated in Grammy's Best Global Music Performance category for her number Udherro Na, which also features sitar player Anoushka Shankar, the daughter of the legendary Pandit Ravi Shankar. How cool is that? The aftab [sun] of the girl is definitely at the arooj [peak] of her popularity.
Sajjad and Faiz
Recently Sajjad Ali pleasantly surprised his fans (it's almost become of a habit of his) by posting a video in which he is playing the tune (on the instrument called melodica or pianica) of the famous Faiz Ahmed Faiz qata, Raat youn dil mein teri khoi hui yaad a'ai composed by Arshad Mahmud for the drama serial Dhoop Kinare in the 1990s. It made many of those who have either seen the play or heard the composition thank the musician for helping them go down memory lane. Good job, Sajjad A. Perhaps, since you're a versatile artist, it's time to come up with something 21st century relevant, please.
Award for Mahira
Like her or not, the fact is that it is difficult to keep Mahira Khan away from the showbiz spotlight. The actress has won the best actress award for her performance in the short film Prince Charming (also starring Sheheryar Munawar and Zahid Ahmed) at India's Indus Valley International Film Festival held in Delhi. When the news of her victory broke, she dedicated the prize to all those women who are suffering from post-marital depression — since the film tackles that particular topic. Congrats to Mahira K! Her win might depress the critics who disliked her performance in The Legend of Maula Jutt.
Princely Performance
The Crown's Season 5 on Netflix hasn't received the kind of glowing reviews that the previous four seasons did. But Elizabeth Debicki's performance as Princess Diana is being praised by someone very special — Princess Di's biographer Andrew Morton who wrote Diana: Her True Story in the early 1990s. In an interview given to a showbiz website, he has said, "I'm not exaggerating. I was shaken by how close to the real Diana she is. The mannerisms, the gestures, the intonations, everything." That's high praise indeed.
What Actors Do
You think the acting community is a hard-working lot? Think again, because Priyanka Chopra doesn't think so. Yep, listen to what she has to say on the subject: "We give too much credit to actors. Actors do nothing by the way. I've always said this. Those 30 seconds of a scene, is where I come in. And then when I talk about the movie etc. So I have a very limited role. We say out somebody else's words, we are working on a script that is written by someone else, we are lip-syncing and singing songs that are in someone else's voice, we are dancing steps that are choreographed by somebody else, we are doing marketing, where questions are asked by somebody else, we are dressed by somebody, hair and make-up are done by somebody. So what am I doing?" Well, Priyanka C, you're spot on, you do nothing. Other actors do a lot, though.
Published in Dawn, ICON, November 27th, 2022