The Crown (2022)
I'll get straight to it. Humayun Saeed appears in this iconic series, based on the royal family of Windsor, as Dr Hasnat Khan in episode seven, Season Five of The Crown. It took seven episodes for him to finally make an appearance and it was worth it. Compared to the other characters, he has a small but powerful (in terms of impact) role.
The fifth season of The Crown deals primarily with Charles' and Diana's relationship and its fallout. We have all of the big 'moments' that have been immortalised in history — the appearance of Diana's famous revenge dress, the making of the Martin Bashir interview and how Diana was trapped into giving it, and we even get a glimpse into Charles' own life and contributions to society — his hopes and dreams, the programmes and charities he's established that, frankly, one never thought to consider until this series.
There's a bit of a tug between mother-and-son and an out-with-the-old-in-with-the-new vibe going on in the family. That is, of course, symbolic of Queen Elizabeth's seemingly endless rule over England with a near middle-aged Charles wondering if he'll ever get his chance while he's still young — we know the answer to that now.
It's pre-Decemberistan and you can take the time out to watch the Charles and Diana saga play out on screen, Lindsay Lohan's long-awaited comeback and the most adorable tribute to cinema — all on Netflix
Falling for Christmas (2022)
Lindsay Lohan is back. Granted she can barely move the upper half of her face — most likely owing to a lot of cosmetic maintenance procedures — but for anyone growing up in the noughties, Lohan has an almost legendary status, owing to her stellar performances in iconic films such as Mean Girls (2009), Confessions of a Teenage Drama Queen (2004), Freaky Friday (2003) and, of course, The Parent Trap (1998). But mostly just because of Mean Girls.
Which is something that may have been on the minds of the makers of Falling for Christmas, Lohan's first comeback film with Netflix ever since she stopped acting. The trailer plays an eerie version of Jingle Bell Rock, originally sung by Bobby Helms in 1957, but immortalised in Mean Girls by, well, the mean girls, in a very comedically provocative performance at their school.
Falling for Christmas is a romantic comedy, a genre Lohan is very comfortable acting in, and in which she plays Sierra Belmont, spoiled daughter of a hotel magnate who wants to make it on her own. Playing a rich, spoiled-yet-endearing character is again, right up Lohan's alley. She gets engaged to her boyfriend Tad (who's more into social media than her), after which she falls down a cliff and loses her memory.
Falling for Christmas is fun, light film to watch with the family or your group of friends. You don't have to wait for December to see the film.
Chhello Show (2021)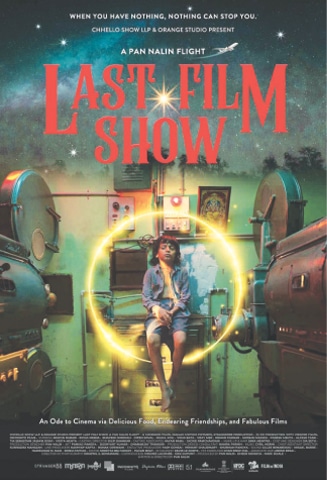 This film just tugs at the heartstrings. Chhello Show [The Last Film Show] is India's official entry to the Oscars this year. It's a Gujarati film which really is director Pan Nalin's love letter to the magic of filmmaking.
Samay is a young boy from a very small village called Chalala in Gujrat. He lives with his strict father, mother and young sister. He experiences cinema for the first time when his father takes him to watch Goddess Mahakali at a local movie theatre. It's 2010 and films are still being shown through a film projector.
Events lead Samay to befriending the projectionist, Fazal, who guides Samay along with the little one's obsession about just how films are made and the influence of light in the process. He has no idea that his heart is about to be utterly and completely broken — times are changing and so is the filmmaking process.
Comparisons have been made to Cinema Paradiso (1988). Set in a small Sicillian town, Cinema Paradiso is centred on a friendship between a young boy and an ageing projectionist who works at a movie theatre. But that's also where the similarities end. Chello Show is a semi-autobiographical film that is informed by the directors' own experiences, set in a completely different part of the world and where the story follows a somewhat different path.
This one is definitely worth a watch with the entire family.
Published in Dawn, ICON, November 27th, 2022