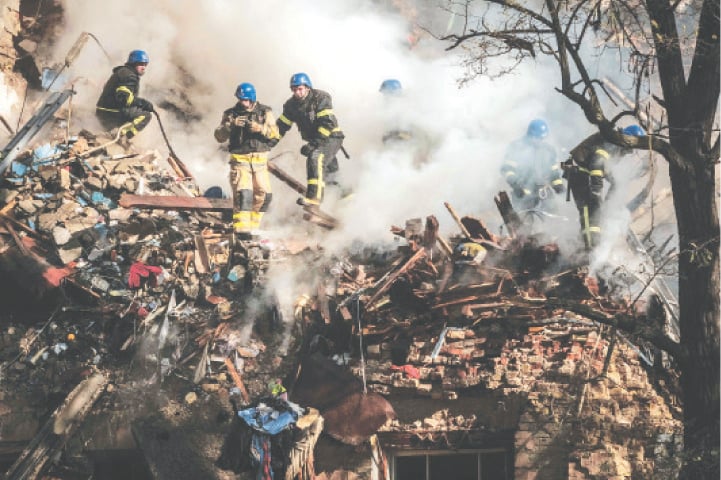 • PM says strikes hit critical infrastructure in three regions
• UN voices alarm at escalating conflict
• Jet crashes into Russia's residential area
KYIV: At least six people were killed by Russian attacks on civil infrastructure in the Ukraine's capital and the eastern region of Sumy, Ukraine officials said Monday, after dozens of drones were launched at Kyiv.
Russia launched the fresh attack using what the Ukrainian president's office said were "kamikaze drones". The strikes claimed at least three lives in the capital and an equal number in the eastern region of Sumy, according to Ukrainian officials.
"As of now, the number of people killed as a result of a kamikaze drone attack on a residential building has increased to three. Nineteen people have been rescued. (Rescue) work is ongoing," the deputy head of the presidency, Kyrylo Tymoshenko, said on social media.
In the eastern region of Sumy the regional governor meanwhile said three people had been killed and several more were injured.
"At 5:20 (0220 GMT) in the morning, three Russian rockets hit a facility of civil infrastructure. At least three people died. Nine are injured. There are still people under the rubble," Sumy regional governor Dmytro Zhyvytsky said on social media.
Energy infrastructure
Prime Minister Denys Shm­ygal earlier said Russian strikes had hit critical infrastructure in three regions, knocking out electricity to hundreds of towns and village across the country, where, according to the presidency, attacks had left some people killed and injured. Russian "terrorists" once again attacked the energy infrastructure of Ukraine in three regions, he said.
"Five drone strikes were recorded in Kyiv. Energy facilities and a residential building were damaged," he said, adding that Russia had also launched rocket attacks on "critical infrastructure" in the central Dnipropetrovsk region and Sumy region in the east.
"Hundreds of settlements were cut off as a result of the attack," he added.
The president's office said Russian missile strikes on critical infrastructure had left several people dead and wounded. And in Dnipropetrovsk, three Russian missiles were shot down but another hit energy facilities.
War surge 'deeply troubling'
The new United Nations rights chief voiced alarm at the escalating conflict in Ukraine as he began his posting on Monday, insisting that civilians must be protected. "Any escalation in warfare is deeply troubling to us, and it's happening in Ukraine," UN High Commissioner for Human Rights Volker Turk said in Geneva.
"We have received reports from our colleagues on the ground about these drone attacks," said Turk, who is succeeding former Chilean president Michelle Bachelet at the helm of the UN rights office.
"It is absolutely important that civilian objects, civilians are not targeted", he said.
Israel warned
On the other hand, Russia's former leader Dmitry Medvedev warned Israel against supplying weapons to Ukraine, saying any move to bolster Kyiv's forces would severely damage bilateral ties.
"Israel appears to be getting ready to supply weapons to the Kyiv regime. A very reckless move. It would destroy all bilateral relations between our countries," the former president said.
A spokeswoman for Israeli Prime Minister Yair Lapid, who also holds the foreign affairs portfolio, told AFP his office would not be commenting on Medvedev's remarks.
Israel has sent humanitarian aid including helmets to Ukraine, but it has stopped short of sending weaponry. The government has sought to maintain ties with Moscow and is wary of Russia's military presence across its northern frontier in Syria, where the Israeli military regularly launches strikes targeting pro-Iranian elements.
Jet crashes into building
Also, a Russian military plane crashed into a residential area in Yeysk, a town in southwestern Russia near the border with Ukraine, Russian news agencies reported, quoting the defence ministry. "On October 17, 2022, while taking off to carry out a training flight from the military airfield of the Southern Military District, an SU-34 aircraft crashed," the ministry said.
Its statement said the military jet had malfunctioned after "one of its engines caught fire during take-off".
"At the site of the Sukhoi Su-34 crash, in the courtyard of a residential area, the aircraft's fuel caught fire," the ministry said, shortly after images on social media showed buildings engulfed by flames.
Published in Dawn, October 18th, 2022