The artwork of children of different schools of Karachi, as well those submitted by the readers of this magazine, was part of a vibrant show "A Picture of Hope" at the Karachi Arts Council last Sunday.
Organised by Dawn Relief, in collaboration with The Curated Plate, this exhibition was remarkable as the children of Pakistan got a chance to showcase their art pieces along with acclaimed artists and photographers of the country, to be sold and the funds used for flood relief efforts.
Children submitted all kinds and sizes of art pieces, and the visitors were so inspired by the show that a little girl, who was there with her parents to see the event, asked for pen and paper and submitted a drawing in minutes!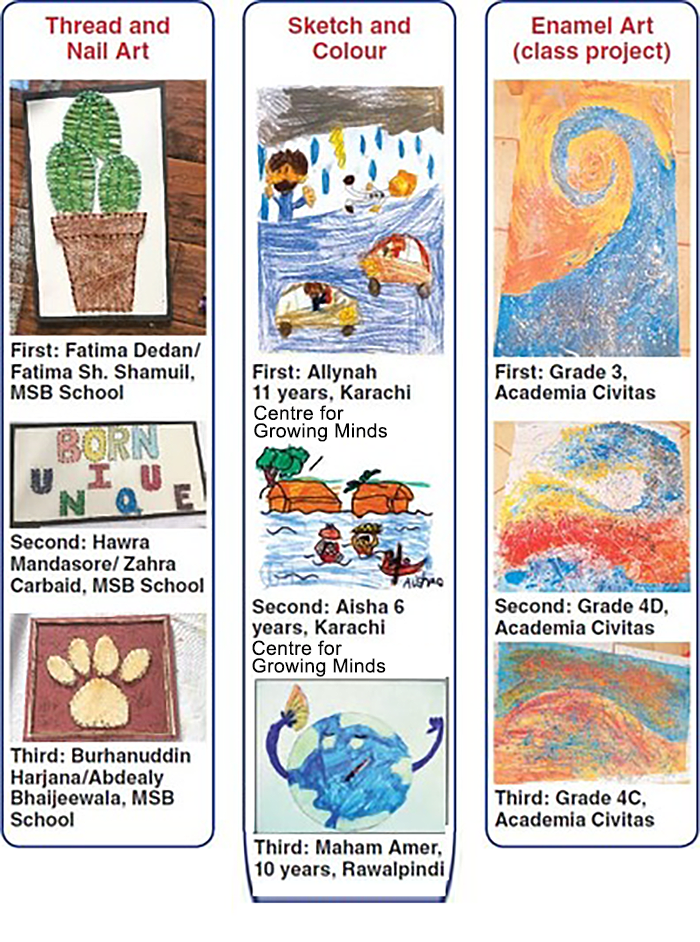 The children's art pieces were divided into three categories — Enamel Paintings, Sketch & Colour, Thread & Nail Art — based on the kind of work submitted. The large enamel paintings were done collectively by classes from Grades 1 to 4, of Academia Civitas, the handmade nail art on wooden blocks were made by students of MSB School, and the Sketch & Colour section had drawings submitted by the readers of this magazine and other school children, including those from Centre for Growing Minds.
The 30 pieces children's artwork on display were then judged by a panel of three judges — Sameera Raja, Sarwat Gillani and Fizza Saleem, all from the art fraternity.
This was not only a great opportunity for children to participate in a worthy cause, but it also helped to raise awareness about climate change so that the younger generation, which are the leaders of the future, will play their role in preserving the environment.
Published in Dawn, Young World, October 1st, 2022