Let this writer hit you with a fact that might seem mighty obvious: supporting characters do not just support the lead characters… they support the entire narrative of a film. Thankfully we have seen quite a few of these characters on the big-screen, this year.
Sitting tight at Syed Jibran's home as rain flooded the streets outside his DHA house in Karachi, our conversation about developing appealing characters continued intermittently during the two hours of diligent searching it took for this writer to book a ride back home.
It was enlightening to say the least, primarily because Syed Jibran has quite a grasp on the screenwriting process (he co-wrote Chakkar with Yasir Nawaz, and helped develop quite a few titles that he does not take credit for).
A non-practising MBBS degree holder who also has a restaurant business, Jibran has been working in television since 2004. Eighteen years later, with Ghabrana Nahin Hai (GNH), the actor made his critically acclaimed movie debut.
Supporting characters in films are not just the comic relief or the quiet bystanders to the leading characters' actions of old movies. They often are essential to taking the story forward. Why then are they given so little respect by filmmakers? Icon spoke to a few actors who have distinguished themselves in supporting roles this year to get a sense…
His character, Vicky, appealed to the viewers — a forlorn good guy with a big heart who helps his childhood love in her mission to get her house back from a villainous land-grabber, while losing her to the film's hero.
From the way Zubaida (Saba Qamar), the girl he loved, treated him, one knew that Vicky's place was immovably fixed in the friendzone — and no amount of heroics would make her see otherwise, Jibran tells me. Irrespective of how jealous and fuming he is at his own fate, Vicky isn't the kind of guy who would put obstacles in her path; rather, he would take it upon himself to try and clear as many problems as he could without her knowing, Jibran explains.
Despite hoping for a miraculous turn of events, where he would get the girl, Vicky always knew his place from the start, Jibran clarifies.
"His was a one-sided love story," Jibran says, but rather than play him as a second hero (in the way of Bollywood love triangles), the actor deliberately played him as a supporting character.
"There is a misconception about supporting characters, especially when it comes to movies," Jibran says. "Here people confuse them with side characters that offer comedic relief or stand by the hero's side. That's arcane thinking."
Running away from playing sidekicks, and even leading roles he was offered to play, Jibran wasn't convinced of the character's uniqueness when he read the screenplay by Mohsin Ali and director Saqib Khan.
"I couldn't see it at the time," he confesses. It was Saqib's unrelenting belief in how the character would turn out that persuaded Jibran.
His perception of the film changed dramatically in the midst of a rehearsal session, weeks before the shooting.
"There I was, performing the scene where Zubaida breaks down in front of Vicky, with the same mannerism and style that I play characters on television, when Saqib stops me," he recalls.
The director could see that Jibran was following the pattern actors employ on television, where one actor just reacts to his fellow actor without considering the mindset and the backstories that would create a specific, nuanced, distinguishing performance.
"Vicky doesn't have the flamboyance of an over-the-top character. He is as routine a man as there can be. What people don't understand is that the tone of such unremarkable, everyday characters is the most difficult to get right.
"Saqib and I spent the next two hours sketching Vicky's backstory, from the time he and Zubaida were five-year-old cousins, to when he fell in love, to how he would react when he saw her in pain or desperation. When Zubaida cries, Vicky regresses to his five-year-old self, doing his best to calm her down, like an older child would shush a younger one, assuring her that he will take care of everything.
"Everything about Vicky fell into place after that one rehearsal. From then onwards, I would visit Saqib's house every night to develop the nuances of the character," Jibran explains.
"I feel I might have been a harassment but, to me, it felt like Saqib was always expecting me to come over to work on the character — and God bless [Saqib's wife] for tolerating me and making tea every time," he laughs.
Since Vicky walked towards the sunset at the climax of GNH (to be precise, he took a bus away from the city to figure his life out), there has been speculation about a possible sequel to the film or a spin-off for the character. Jibran, though, is not in the mood for sequels, he tells me.
"I have figured Vicky out, so there is no charm for me as an actor to further work on evolving that character. And even if there were a story, I don't see Vicky growing into someone he is not. Rather than playing sequels, I would happily develop a brand new character," he tells me while trying to order me a cab.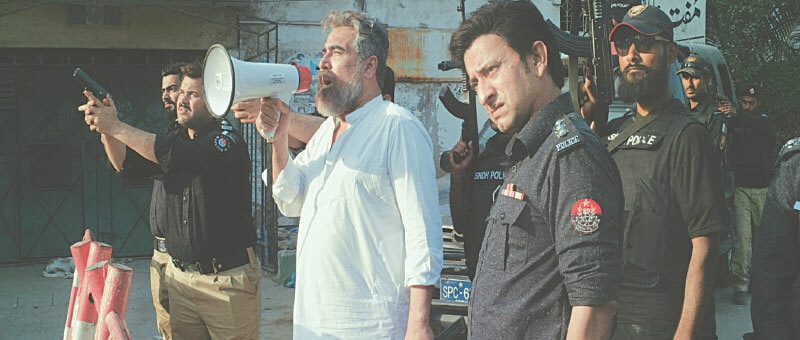 Thirty minutes later, I manage to get a bike ride instead.
Nearly swimming home (it was a wonder the bike engine survived the trip), I try reaching out to Ahmed Hassan, the actor who played Surbuland Cheema LLB from Chakkar.
Surbuland Cheema is the heart and soul of Chakkar. When I met Ahmed Hassan for the first time on the sets of Chakkar, I was told that, despite the cheap-looking get-up and the borderline comic persona, the character would be a surprise. And he was.
The conversation about Cheema, who is both a caricature of a comic relief sidekick and a well-rounded supporting character, would have been an eye opener…if Ahmed had had time for it. Caught up in prior commitments with family and productions, the actor couldn't connect with the writer.
Someone else who was caught up in a hectic schedule, but did make time nonetheless, was Mirza Gohar Rasheed, who played Bhatti — Humayun Saeed's friend and foil — in London Nahin Jaunga (LNJ).
In my review of LNJ, I felt that the screen depiction of Bhatti is a prime example of writing a throwaway 'sidekick' character.
Gohar, however, would not comment on this writer's conclusion. Thanking God for the opportunity to act in a film like LNJ, he had one official response to my questions about developing characters for the big screen:
"Wait for The Legend of Maula Jatt…and learn from it," he says. "That and Money Back Guarantee," he adds.
"I am not just talking about my character. I am talking about the characters Shafqat Cheema and Nayyer Ejaz play as well. It is not about the importance of one character — the importance is of every supporting character."
Gohar, who has been known to play over-the-top characters in films like Rangreza, tells me that there is an art to developing characters for both the big and the small screen.
In today's world, the definition of a hero has changed," Gohar says. "He is not the hero in the conventional way of thinking. He is, instead, a character — and that is what sets him apart. If you connect to a film through its characters, then how can you differentiate between a hero and a supporting character, if both play an essential part to carry the story forward?" he asks.
"In today's world, the definition of a hero has changed," he says. "He is not the hero in the conventional way of thinking. He is, instead, a character — and that is what sets him apart. If you connect to a film through its characters, then how can you differentiate between a hero and a supporting character, if both play an essential part to carry the story forward?" he asks.
To illustrate his point, Gohar asks me of the last film or series I saw. My reply is Squid Game — a series the world has seen, and I had finished binge-watching it two days before I began this feature.
"Who is the hero in Squid Game?" Gohar asks. "By Pakistani definitions, the one who wins the game is the hero — but if you ask me, the hero is the old man who sets up the series. And not only that, the hero is everyone in the ensemble cast. Be it the Pakistani character Ali, or that one girl who comes late in the series and gets one episode to define her character [Lee Yoo-mi, played by Ji-yeong; the girl at the marble-throwing game].
"That is the miracle of smart content. For the most part, we're stuck in '90s Bollywood, while the world has moved on," Gohar says.
Speaking of Bollywood inspirations, my next conversation is with Javed Sheikh, who plays the Sindhi constable Ronaq Ali in Quaid-i-Azam Zindabad (QAZ).
"I have no reservations about the type of roles I am offered when it comes to Nabeel Qureshi and Fizza Ali Meerza," Javed Sheikh tells me on the phone.
Recalling Na Maloom Afraad — their first film together — Javed Sheikh says that he was initially surprised about the meekness of his character. Although he hadn't played a mild-mannered man before, "something was missing from the character when I started practising his lines," the veteran actor says about that first film.
"I was rehearsing my first scene in the film, which was with Fahad Mustafa, and the idea struck me to add stuttering to my character when he is under stress.
"It was a Eureka moment for Nabeel — and it gave me another dimension to explore as an actor," he says.
For Javed Sheikh, the moment to play another "distinctive character" came years later, with QAZ.
"Nabeel had a get-up in mind: shabby clothes, hair coloured entirely by the red of mehndi — I confess, I don't remember if he told me if the character was Sindhi or not — but the idea for Ronaq was quite clear when I heard it. We did a dress rehearsal, and that was it!," he tells me.
Ronaq Ali, another meek but enjoyable character, has sporadic screen time in the pre-intermission part of QAZ, with a few good scenes in the post-intermission middle-act. After these scenes, the character almost disappears from the narrative. Was playing a considerably smaller part an issue for Javed Sheikh, I ask?
"Not at all," he responds. "My biggest concern is what I am briefed about the character, how that is presented on the screen and how much room do I have as an actor to give life to it."
Javed Sheikh reminds me, as he does every time we talk, about the character of a butcher he played in the first Wrong No. and for which he learned how to chop meat like a professional. "I always want to go the extra mile, but sometimes it is not possible," he concedes.
As an actor who gets a lot of opportunities to play characters in films and television, he agrees that, more often than not, he gets roles that haven't been developed enough. Ronaq Ali from QAZ was a happy fluke, but he will not rely on flukes in the future he tells me.
"From now on, I plan to voice my concerns to producers and directors well beforehand," he says.
As Javed Sheikh and I speak about characters and actors, Saleem Mairaj's name keeps popping up.
Saleem Mairaj had been a permanent fixture in my conversations with Jibran and Gohar as well. It is hard not to talk about him, partially because he has a role in most films we see on the big screen (he was in GNH, Dum Mastam, QAZ, Chaudhry and Lafangey in the past few months), and partially because he brings his A-game to every role he plays, irrespective of the quality of the script and the project.
When the actor and I speak, he tells me that he is on the way to dub the dialogues of his upcoming film John, which stars Aashir Wajahat.
"We actors are well aware of the type of films we are offered, and of the depth of roles we get," he says candidly. "Sometimes, there is no escaping them…so it is best to own our mistakes," he sighs.
Saleem Mairaj's frankness catches me off-guard, because the actor doesn't sugarcoat facts.
"In all honesty, most actors [sign roles] for the money and, then, if we get an opportunity, we try to craft something original from whatever of the character we have in our hands."
And what about characters that are copied from other films, I enquire, swerving the topic to the actors' latest film, Lafangey.
"For that, I own the fault," he says, knowing well where the conversation was leading.
"No one hid the fact that Lafangey was a copy," Saleem Mairaj says. "[In this particular case] we all saw the original film [Anando Brahma; AB] well beforehand. Normally, I would have never watched the original, but since everyone was okay with seeing the original, I saw it as well."
Knowing that Lafangey was lifting entire scenes of a film, did anyone raise objections, I ask.
"We did, but we got a thousand reasons and explanations instead. You know how it is," he tells me. "However, I can tell you this much. From now on, I will be very strict on myself about what type of roles I accept," he affirms.
I liked his performance better than his counterpart actor's in AB, I tell him, which catches him by surprise. The actor was expecting a critical bashing, I gather.
As we continue talking about his roles, and the type of roles actors like Nayyer Ejaz get, Saleem Mairaj tells me that the industry is still hellbent on casting actors by the type of roles they often play.
"It is a fact. More often than not, we are typecast to certain types of roles because of how we look. Very few take a chance on an actor's potential," he says.
Although it has taken its sweet time, filmmakers are finally able to see Saleem Mairaj, the actor, doing more diverse roles, one assumes.
We spend a great deal of time talking about his character in GNH, where he played the swindler who marries Pakistani girls to Chinese conmen and gets recruited by the cop Sikander (Zahid Ahmed) to con the mafioso Bhai Miyaan (Nayyer Ejaz). And the cop he played in Chaudhry (he was one of the two characters who connected with the audience), and his role as a corrupt constable in QAZ, who bullied poor fruit and vegetable vendors in Saddar.
While all three roles were expertly pulled off by the actor, his brief character-play in QAZ is evidence that an actor needs only one scene to change the direction of the story.
In that scene, which happens late in the film (Spoiler Alert!), Inspector Gulab's (Fahad Mustafa) consciousness is freshly jolted awake by circumstances and he beats down and humiliates Saleem Mairaj's character in the middle of the street. The lowly cop's verbal retaliation pushes Gulab into taking down enemies who are higher on the food chain than him.
In comparison to Saleem Mairaj's other roles, his screen time in QAZ was limited to that one scene, but that doesn't bother him, he says. "With Nabeel and Fizza, I play blind. Sometimes all you need is one scene to make a difference. It doesn't matter if that scene is big or small. What matters is how good that character is, and where that character takes the story."
Published in Dawn, ICON, August 14th, 2022