How does one collate a list of current TV dramas that must be watched? The Pakistani drama industry may be a money-minting behemoth, gradually ambling its way towards strong storytelling, but it also has plenty of flaws.
For every unique drama, there are four mundane, repetitive ones. Almost every story starts off on a high note and then peters into dragged scenes and flashbacks for a number of episodes before finally picking up the pace and concluding. There's a minefield of slaps, screams and toxic notions of masculinity that have to be navigated even in the most top trending productions.
The dedicated aficionado may still tune into a favourite drama at 8pm, on TV prime time, and watch it diligently through multiple commercial breaks. However, many others now simply stream a drama a few hours later, on YouTube, skipping out the sobby bits, fast forwarding through long renditions of the title track which tend to surface every few minutes, and frequently utilising the option to watch a video at a faster pace — a playback speed of 1.5x works pretty well!
This list, therefore, comes with a disclaimer: these dramas may be the best that TV has to offer right now, but that does not mean that you won't squirm through a few long-winded episodes, tedious dialogues and, in some cases, some very toxic situations.
Love and betrayal, intrigue and scandal, tragedy and happy endings — our television dramas have it all. And then some. Icon takes a look at some of the dramas trending these days and the glue that holds viewers' attention to them
On the upside, creating a list like this one is also tricky because the realm of Pakistani drama is now very, very vast. Dramas haul in major profits and our local battalion of channels are in a race to top the ratings charts. A motley crew of exceptionally talented actors, directors, writers and producers form the backbone of our TV industry and, despite their flaws, some dramas truly are very, very good. It can be difficult to pick and choose.
Here's the list, then — in no particular order — of must-watch dramas that are currently on air or that have ended only in the last month …
Habs
There's a Mills & Boon-esque charm to the Six Sigma Plus production Habs on ARY Digital — a rich, young businessman finds out that his deceased father has declared in his will that all his business assets will be frozen unless he marries immediately. On impulse, our businessman — Feroze Khan, trussed up in designer-wear, sunshades and driving expensive cars — ends up marrying his PA, a young girl working hard to provide for her family, enacted by Ushna Shah.
Add in loads of emotional baggage, two younger sisters with stories of their own, and frequent doses of maternal blackmailing, and you end up with a complicated storyline with the promise of a crackling romance that keeps you hooked.
The actors are brilliant, the direction is smooth and the only potential spanner in the works is the drama's title, Habs, implying stifling, oppressive suffocation. The story hasn't yet been true to its title — one hopes that it doesn't, even in later episodes.
Mere Humnasheen
A considerable proportion of Mere Humnasheen's actors are non-Pakhtuns speaking in Pakhtun accents and sometimes they don't manage to do so believably. But while the accents may falter, the acting does not, the story does not and the scenic Swat Valley, where the drama has largely been shot, ensures that the 7th Sky Entertainment production airing on Geo Entertainment is a visual treat.
Mere Humnasheen may lean slightly towards being a romance but, more than anything else, it's a story about a young empowered girl taking a stand for her beliefs and following her dreams. Hiba Bukhari's fiery, single-minded Khajista belongs to a strictly conservative Pakhtun family and is intent on pursuing a career in medicine. The women in the region that she lives in are not allowed to consult male doctors, which results in medical complications and even death.
Khajista convinces her family's elders and goes off to the city to study in a medical university so that she can eventually become a female practitioner serving her region. Her fiancé, the volatile, chauvinistic, bumbling Darakhzai, played by Ahsan Khan, is livid and feels that she is smearing her family's honour by living in a hostel in the city and studying with boys.
And at the medical university, Dr Haadi, enacted by Shahzad Sheikh, gets smitten by Khajista, much to the consternation of his brother and his cousin, who hopes to marry him and is willing to plot and scheme in order to win his heart.
There are sub-plots within the main plot, traversing tribal rivalries, a forced marriage as revenge for a murder, petty jealousies, family politics and conversations on misguided notions of honour. There are also occasional spurts of humour which help in keeping the pace lighthearted.
What works particularly for Mere Humnasheen is that we really can't tell how it will end. Who will Khajista end up with? What is going to become of the increasingly heated tribal rivalries in the region? Is someone going to die? If you can't foretell what's going to happen in drama, you tend to enjoy the plot twists much more.
Pehchaan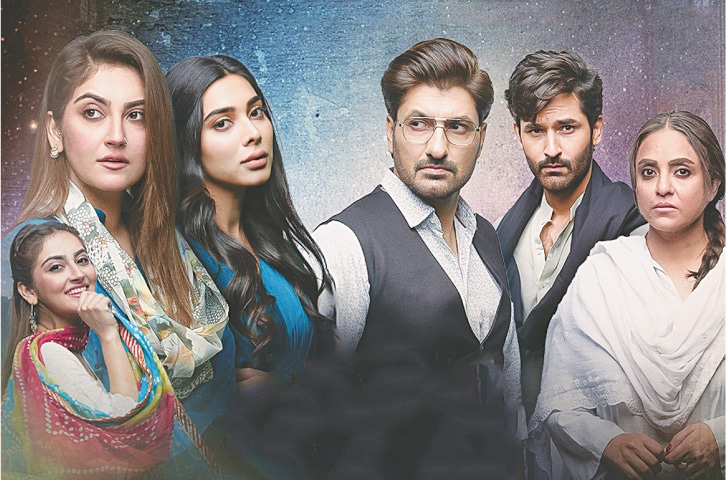 In a drama-scape littered with weeping bahus, evil two-timing husbands and malevolent mother-in-laws, comes the story of a woman who walks out on an affluent lifestyle and what appears to be a happy family life when she finds out that her husband hasn't been true to her. Very refreshing! And Hiba Bukhari exemplifies that she is a talent to reckon with in MD Productions' Pehchaan airing on the Hum TV Network. Syed Jibran, as the male lead, also holds his own.
Everything appears to be well with our leading lady, nicknamed Kuki, and her family when she leaves her home in Turkey to attend a family wedding in Karachi. However, she is nowhere to be found at the Karachi airport when her sister-in-law comes to pick her up. Investigations reveal that she left the airport on her own and hasn't been kidnapped. Four days later, she is seen getting off from a rickshaw at her parents' home.
Refusing to answer her family's questions, she simply insists that she has wasted enough of her life on her marriage and now wants a divorce. Her children are shocked, her husband is perplexed, her family keeps ranting on about how she is bringing shame upon them — but, so far, Kuki hasn't budged from her decision.
What keeps you riveted is basic curiosity: why is she so resolute on not returning to her picture-perfect life? A constant slew of flashbacks are helping in slowly — very slowly — piecing together the puzzle. There was a past girlfriend that her husband continued to meet after their marriage, there's a next door neighbour who was madly in love with Kuki and there were times when her husband would be cranky with her or boss her about.
Pehchaan hits at issues that are intrinsic to Pakistani society. Can a woman choose to set aside motherhood and pursue her own identity? Will she be able to provide for herself if she lives alone, particularly if, like Kuki, she doesn't have a degree and was married young? Why is it assumed that she must be having an affair with another man if she decides to take a stand against her husband? What right do men have to be brutal with their wives, constantly threatening them with divorce and taking them for granted?
The stereotypes that are challenged through this story make it unique even though, in retrospect, the basic narrative could turn out to be a simple one, based entirely on why Kuki has walked away from her family. This particular mystery is taking its time to get solved, with the drama delving into far too many flashbacks.
It's still a very interesting watch — and the sort of story that needs to be told to a mass audience.
Chauraha
This one starts off as a discourse on the dangers of social media. Then, the story goes on. As the name implies, there are multiple crossroads or chaurahay woven within the plot of 7th Sky Entertainment's Chauraha, airing on Geo Entertainment.
Zoya, played by Madiha Imam, naively befriends a girl on social media, not knowing that she is actually communicating with Junaid, aka Mikaal Zulfiqar, who seeks out girls from affluent households and then kidnaps them. On kidnapping Zoya, Junaid realises that she had only put up a pretence on social media of being well-off and actually belongs to a household that struggles to make ends meet.
Zoya's widowed mother, Saba Hamid, and phuppo are inconsolable as they try to get her back. Meanwhile, their neighbourhood is rife with gossip, conjecturing that Zoya may have run off with someone on her own.
Junaid, realising his mistake, eventually drops Zoya back to her home but, on her return, both mother and daughter face an increasingly vicious neighbourhood. Their only saviour is Saleem, played by Behroze Sabzwari, a do-gooder who works with Zoya's mother and is romantically interested in her. Unknown to the mother and daughter, he is also Junaid's father. Junaid, on the other hand, undergoes an existential crisis and repents for his mistakes.
There's more. A spineless next-door neighbour is in love with Zoya and Junaid's sister nearly gets kidnapped, giving him a taste of his own medicine. The story winds on and on, directed intelligently so that the multiple plot twists don't seem abrupt or out of place.
There are all-out fist fights in Chauraha, running around and tears — plenty of tears. It wouldn't be a drama if it didn't have tears.
Fraud
The promise of fraudulent behaviour draws you towards watching Fraud. The cast is quite stellar too: Ahsan Khan, Mikaal Zulfiqar, and Saba Qamar making a long overdue return to television. Produced by iDreams Entertainment and airing on ARY Digital, the drama may be moving forward at a snail's pace but the storyline is so interesting that you end up tuning in.
Mehmood Aslam plays Maya's father, who dreams of marrying his daughters off into wealthy households. Lo and behold, a proposal surfaces via the internet and Maya, enacted by Saba Qamar, gets married to Tabraiz, played by Ahsan Khan. To all appearances, Tabraiz's family is very well-off and his parents dote on Maya but, within a few days, they manage to find enough reasons to take hold of all the money and jewellery set aside for her by her parents. Then, conveniently, they disappear and Maya and her family belatedly realise that they have been swindled.
Our story moves on to long crying sessions, a heart attack, snide remarks from neighbourhood aunties, the title track playing on and on through sad scenes and even Maya getting left at the altar when her parents try to marry her off a second time. In the meantime, Ahsan and his cohorts are zeroing in on their next target.
In a parallel story that is yet to connect with that of Maya's, Shaan, played by Mikaal Zulfiqar, is being puppeteered by his scheming stepmother and stepsister and is trying his hand at single fatherhood since his wife has walked out on him, leaving their daughter in his care.
Some very strong performances form the essence of Fraud. You also really want to see how Ahsan wheels and deals his way through another relationship and, then, you want to see Maya and her family catch him out. If only the drama sped up a bit — I don't think it will — you'd be able to see it sooner.
Mere Humsafar
Mere Humsafar is so phenomenally popular that it has to be in this list. Every episode trends on YouTube, not just in Pakistan, but also in India. There are multitudes of clips dedicated to the drama's lead characters created by fans and floated out daily on Twitter and Instagram. Even if you aren't watching it, you end up tuning into it, just to check out what the hype is all about.
And here's what you find out: audiences in Indo-Pakistan derive a guilty pleasure from sob stories and they are easily able to stomach a long-suffering heroine who gets physically and emotionally tortured as long as there's a romance at the end of the long, dreary tunnel. Airing on ARY Digital and produced by Six Sigma Plus, Mere Humsafar has a story that is stretching on and on and the script is replete with relentless turmoil, barring a few — very romantic — scenes.
Hala, played by Hania Aamir, is a little girl when her father decides to remarry and flies off to London, leaving her to live in Pakistan with her paternal grandmother and her uncles. Her aunts, played by Saba Hamid and Tara Mahmood, hate being burdened with yet another child. They despise Hala so thoroughly that she often doesn't get enough to eat and is constantly taunted. She grows up and her pathetic, pointless life continues, constantly at the mercy of her aunts, uncles and their evil daughters and only finding respite with her daadi, Samina Ahmed.
After about eight episodes' worth of torture, Hala's cousin Hamza, Farhan Saeed, returns after studying abroad. He saves Hala from getting married to a random suitor selected for her by his parents and, when his mother Shahjahan — Saba Hamid — kicks her out of the house, Hamza secretly marries her in order to save her life from further pain. The pain continues, though — it wouldn't be a hit drama if it didn't.
Adding fuel to the fire is an old flame that Hala had once hoped to marry who is now out to take revenge from her. There are mean cousins constantly trying to land Hala into trouble. There are screaming matches and a bit of slapping around from her mother-in-law. You may end up drawing comparisons with the mega-hit drama from long-ago, Humsafar, which also revelled in prolonged, painful storytelling.
Mere Humsafar's only redemption is the romance between Hala and Hamza. Both Farhan Saeed and Hania Aamir have great chemistry and act exceptionally well. There's even a hashtag on social media, dedicated to their love story, #HalZa. Their scenes together are so sweet that you end up watching and hoping for a happy ending — provided that the characters don't die or become insane from all that they have had to endure so far.
Having said that, even the most unwavering romantic has to have very strong nerves to watch Mere Humsafar's relentless tale of suffering.
Dobara
Dobara, an MD Productions drama airing on the Hum TV Network, wrapped up last month and bravely walked off the beaten track. Mehrunnissa — Hadiqa Kiani proving her acting mettle yet again with her second role in a drama — is a young widow who feels freed from the shackles of a marriage where she had to follow the dictates of a much older husband.
Much to the consternation of her grown-up children and sister-in-law — Sakina Samo playing a scheming, sometimes hilarious phuppo in a memorable role — she ends up marrying a much younger man, Mahir, played by Bilal Abbas Khan.
Mahir comes with his own backstory: divorced parents who don't want to take responsibility for him, step-parents who taunt him, a lack of money and a girlfriend who jilts him. The drama navigates the unconventional marriage, the complexes and ulterior motives of the various characters and how, sometimes, love can be experienced 'dobara' (again).
Most of the time, Dobara is narrated with great sensitivity and attention to detail. There are a few times, though, when it may not quite make sense.
Sang-i-Mah
The tribal custom of ghag, where a man claims a woman's hand in marriage by shooting in the air three times, was tackled with great clarity in MD Productions' Sang-i-Mah on the Hum TV Network. But even before you knew the story, much before a certain scene or dialogue caught your attention, Sang-i-Mah drew you in because of the sheer star-power within its cast. Veterans Naumaan Ijaz, Sania Saeed and Samiyah Ansari starred alongside Hania Aamir, Kubra Khan, Zaviyar Naumaan Ijaz, Omair Rana, Hasan Noman and… Atif Aslam making his TV drama acting debut.
There's no denying that the drama could have been shorter. Certainly, some of the actors should have worked more on mastering the accent required to play tribal Pakhtuns. The characters, however, are very memorable and the story knits together romance with revenge, rivalry, religious prejudices and twisted notions of justice. The drama concluded a few weeks ago and, though it may not be a masterpiece in its entirety, the story is so distinctive and some of the performances are so powerful that it must be watched.
Published in Dawn, ICON, July 31st, 2022