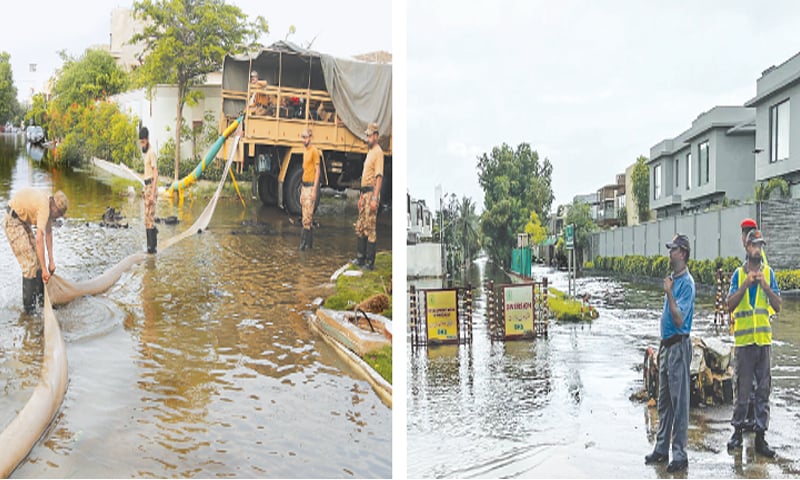 KARACHI: "We don't get water through the lines, we get it through the gutters during monsoons. And that gutter water covers up for the lack of water from the lines for the entire year," screamed a resident of DHA Phase 6 upon being asked the water level situation in his area on Tuesday.
"There is the Defence Housing Authority and the Cantonment Board Clifton here, which are there only to provide jobs to retired military men. None of them are here to take responsibility for anything. The plots they get in this so-called posh area, they sell off to make a quick buck. If the DHA was inhabited by military personnel I'm sure the situation would have been very different here.
"But no one cares about us civilians. We get no facilities in return for the heavy taxes we pay for owning property in Defence. There is not even a government hospital in DHA or Clifton to cater to the needs of residents here," vented another DHA Phase 4 resident, whose lawn and parking area was in a four-foot-deep water and he had no electricity since it started raining again three days ago.
The worst hit streets in Phase 4 were Golf Course roads 1 to 5, 9th Commercial Street and Commercial Avenue, which has a storm-water drain running right in the centre that fills up as soon as it starts raining because it is mostly blocked.
Say they get nothing in return despite paying heavy taxes; army called in to drain out rainwater
Camran Khan, another resident of Phase 6 informed that his street, Street No 5 off Khayaban-i-Seher, was flooded with sewage even before the current spell of rains. "Our street has been flooded with sewage since July 9. And nothing is being done about it despite constant complaints to CBC," he said.
Burglaries in vacant homes
Several residents, whose homes are surrounded with sewage and they are without electricity, said that they could have moved in with relatives living in areas where the situation was better, but didn't because they were also hearing about burglaries in vacant homes.
"There are suspicious people roaming about. We have seen them ourselves. They seem to be doing research on which home they can enter. The knee-deep water doesn't seem to bother them. There is nothing to stop them from entering to steal from our homes. So we are also trying to stay put at our residences despite the misery," said an elderly lady on 17th Street in Phase 1.
There are many water pumps put in place by the CBC and they are working in all the inundated areas, but things are not improving because they are not as fast as the accumulation of rainwater and sewage water in these places.
"Either the drains where they are trying to pump the water out from are choked or it is high tide," explained a resident of Phase 7.
Khayaban-i-Bukhari's secondary market, known as Chota Bukhari, paints a similar picture as the entire area, along with the housing blocks around it, remained inundated.
Like at the time of the previous rains two years ago, many shops and offices in the basements of the market have once again been destroyed, and most of the shops remain closed as the area is not accessible to residents.
Residents help each other
The DHA and CBC have arranged tankers to suck the dirty water. There are around 16 such tankers placed at Bara (big) Bukhari and eight of the same at Chota Bukhari in Phase 5 and 6 along with five more in Phase 4.
"Had it not been for the kind-hearted residents of DHA who are in a somewhat better position, we would have seen huge tragedies happening here. They are rescuing people in 4x4s and SUVs. They have organised themselves in a club called the Offroad Club. They are distributing food, medicine and groceries. Even the NGOs rescuing people in inflated dinghies are doing a good job. And looking at the residents helping each other, the NGO volunteers at work, the CBC is also showing some activity, however little," said another disgruntled resident of Phase 6.
"How about CBC compensating all the residents for the losses they have suffered again with the money they take from us in the name of taxes as we don't get any facilities in return?" Asked another resident of Chota Bukhari in Phase 6.
The situation compelled residents to remain indoors and the authorities to block vehicular traffic on several roads.
Residents say that gravity of the situation is such that in a huge block, with Khayaban-i-Saba and 26th Street on two ends, and Khayban-i-Seher and Khayaban-i-Muslim on the other two, every single street is flooded.
Many parts of Khayaban-i-Shujaat in Phase 6 are equally affected.
A portion of the 26th Street, which is the main artery in the area, between Seher and Muhafiz intersections, has been blocked for vehicular traffic by authorities because of extremely high water level.
Some staff of the CBC has been making efforts for the last two days to drain out the water, but without much relief to the residents.
Some parts of Khayaban-i-Muhafiz said to be the worst-hit areas where on Tuesday army troops were seen involved in pumping out water.
Residents said though the authorities were making serious efforts, a limited number of suction pumps were making their job extremely difficult.
Many residents, while expressing their helplessness, had only the DHA and CBC to blame. They were unanimous on one point that both these organisations have learnt absolutely no lesson from the catastrophe of 2020 when torrential rains had it looked like part of the Arabian Sea.
Published in Dawn, July 27th, 2022