On any given day, it usually is a 40-minute drive from the Karachi Port Trust (KPT) interchange to the fishing neighbourhood of Rehri Goth. For fisherman Abdul Salam, those 40 minutes are not just the distance between a city centre and his suburban locality, but a contrast between sanity and insanity, neglect and care, sobriety and drug addiction.
Known as Salam Mallah by his peers, he tends to believe that settlements at Rehri Goth started right after the victory of a foreign Muslim army against a ruling family back in the days. This is probably more hearsay than fact. The population boom, nevertheless, began after power and road infrastructure came to the area in Prime Minister Zulfikar Ali Bhutto's time in the 1970s.
With time, access to and from the city has become better. But it has also led to the arrival of drug peddlers, openly selling drugs including the hugely addictive 'ice' (crystal meth) and heroin. "[Procuring drugs] here is as easy as getting a bottle of water," the fisherman laments.
He is not exaggerating.
Rehri Goth is a fishing village on the outskirts of Karachi. Its marginalised status has helped turn it into the metropolis' biggest illegal drugs hotspot
A little stroll around the area shows ugly scenes of women and minors lying on street corners, either injecting themselves with needles or smoking substances or simply under the influence. Kamal Shah, a local activist of the area who campaigns against drug abuse, says that around 150 people have died in Rehri Goth during the past few months because of self-injecting.
"The day has just started, markets are open and all you can see around is people selling and buying drugs," says Mallah, his index finger making a wide circle in the muggy air. "Is this normal? Drugs are present in other areas of the city too, but are they as open as they are here?
"The fishermen here barely make ends meet, drinking water is contaminated, and the state of schooling is abysmal. But the easy accessibility of drugs has become a life and death issue for us."
A speeding motorcycle carrying small fish for chickenfeed interrupts his flow. "Can it be possible without political and police support?" he asks in a hushed tone. "Common sense says no."
In Rehri Goth, the influential Jats, who are considered coastal feudal lords, have been dominating politics, security and everyday life for the past several decades. They are part of the ruling Pakistan Peoples Party (PPP), and Rafiq Dawood Jat is the vice-chairman of District Council Karachi, which oversees the city's coastal and rural areas.
Meanwhile, another local PPP leader, MPA Mehmood Alam Jamot, also enjoys considerable influence in the area because of his electoral capital.
With the dominant PPP failing to address the elephant in the room, the right-wing Jamaat-i-Islami (JI) is making concentrated efforts to carve space for itself. A series of protests and awareness sessions have been organised by the party in a bid to pressurise authorities to take action against the drug trade in the area — a move appreciated by the local residents. It is also running a charity primary school in the area, in collaboration with former cricket captain Shahid Afridi.
Abdul Jabbar Nasir, a veteran journalist with expertise on electoral dynamics in Karachi's coastal belt, believes that while the JI may be able to secure a ward in the upcoming local bodies' poll, its prospect of winning a provincial or national assembly seat in the general polls still remains a far-fetched idea.
"The coastal belt votes on community lines," says Mallah. "In fact, it is the lack of political structure that has paved the way for the drug issue. Even PPP would not be able to win seats on its own without the community vote bank.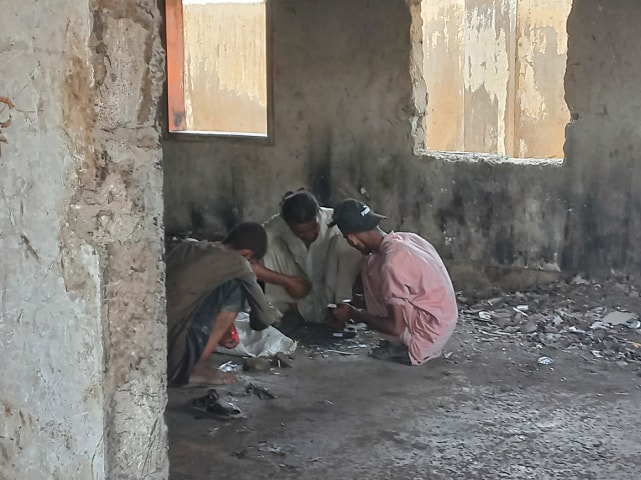 "With politics revolving around a person or two because of their community affiliation, issues such as education, health, narcotics and policing are not seriously taken into consideration, because it does not serve the interests of any political party," he offers.
The Administrator Karachi, Murtaza Wahab, and the local MPA, Mehmood Alam Jamot, did not respond to questions in regard to this issue despite repeated tries.
The biggest question mark, however, remains on the performance of the local Malir police. Locals say that drug trade is not possible in the area without police support. But police say no compromises are made in action against the drug trade.
The police data shared with the media shows that a series of actions have indeed been taken to curb the drug menace. According to the data issued by the Malir police, as many as 202 FIRs were registered against suspected drug peddlers since January this year, and 295 of them were arrested. The police also claimed to have recovered 3.4kg of 'ice', 9.3kg of heroin and 242kg of hashish.
"There is no organised drug mafia anymore in the area, as the police recently took down a ring leader in an encounter," says Malir police SSP Irfan Bahadur. "But given the massive demand for narcotics, non-residents somehow make their way here to sell substances in the area."
He adds: "Eighty percent of the inhabitants of Rehri Goth are drug addicts. It is not the police action, but the massive demand for drugs that needs to be focused on. Effective rehabilitation centres and strict parental control are the only ways to address this issue."
In the end, however, the buck stops at the fact that no explanation resolves the drug conundrum for Salam Mallah and his peers. For them, it is a textbook case of state apathy, because the fishermen hold no political and financial capital that can push authorities to take action.
"Drugs are an offshoot, symptom, or a reaction of a problem," says Mallah. "Our real issue is something else, and do you know what it is?" He pauses and stares in the distance. After a few seconds, he refixes his gaze on me. "It is those damn 40 minutes, my friend."
The author is a graduate of Politics and International Relations from Royal Holloway University of London.
He tweets @ebadahmed
Published in Dawn, EOS, July 10th, 2022