Faysal Says
Actor Faysal Quraishi isn't happy with some people who didn't understand the context of his answers regarding the hit TV series Parizaad given during a podcast. According to him, what he meant to say was that he had submitted the script for the drama to a channel with actor Gohar Rasheed in mind to play the lead role, and the channel turned it down. He himself didn't want to essay that role. However, he thinks that Ahmed Ali Akbar did 'justice' to the title character of Parizaad. Got it, Faysal Q! You never wanted to act in it. You wanted Gohar R for the part. It went to Ahmed AA. He did a good job. You are happy for him. And we are happy that he was chosen for the role.
Copycats
Our very own Nabeel Qureshi is a talented director whose work has a mass appeal. A few years back, his film Actor in Law 'influenced' (let's be gentle and not say copied) an Indian production team and they made a movie titled Batti Gul Meter Chalu starring Shahid Kapur. But now they've come out with an Akshay Kumar-starred Raksha Bandhan which netizens feel is a ditto copy of Nabeel Q's Load Wedding — the hero in love with the heroine but can't get married because he has four unmarried sisters. Without using clichés such as imitation is the sincerest form of flattery, let's just say it like it is: Bollywood has lost the plot.
Harvesting Talent
One of the questions that directors, actors, writers, painters and singers are often asked: what would you be if you weren't an artist? Most of the times, the answers sound pretty predictable — doctor, engineer, teacher etc. Well, Pankaj Tripathi is a different kettle of fish; he is as genuine an individual as they come. While responding to a similar query, the Indian film star said had he not been a performing artist, he'd be a farmer. For certain you would sir, because the way you plough the field of acting is exemplary.
K-Pop Ignoramus
Fahad Mustafa is one of the country's leading actors. We thought that, since he is part of the entertainment industry, he'd know about the international showbiz scene. Well, apparently that's not the case. His daughter is a big fan of the Korean pop sensation BTS and the father doesn't know a thing about K-Pop. He says he first thought that BTS stood for Behind the Scenes. Also, he hasn't seen any of the Korean dramas available online. Why aren't we surprised by his ignorance?
Post-Divorce Sobriety
Divorces can have a heavy toll on the people going through or experiencing it. Actor Brad Pitt found a way not to get terribly affected by the bitter split when Angelina Jolie filed for divorce in 2016. In a recent interview, the Hollywood A-lister has said that after the separation he joined an 'alcoholics anonymous' group which eased him into getting sober. "I had a really cool men's group here that was really private and selective, so it was safe." Better safe than sorry, Brad P.
Account Down, Up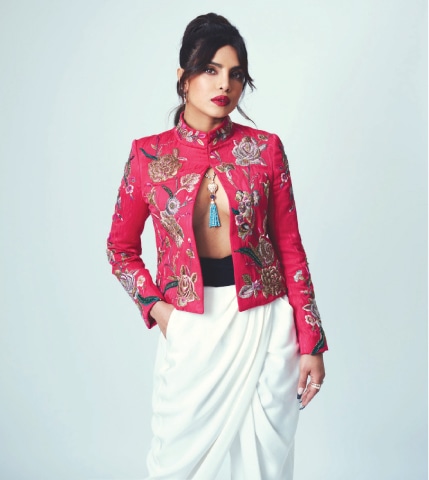 On June 21, something strange happened for all those who follow Bolly-Holly actress Priyanka Chopra on Instagram (there are 79.8m of them). Her Insta account, for some odd reason, disappeared. When her admirers fussed over it, her team tried to investigate the matter. After a couple of hours, the account was restored. If one of the members of Priyanka C's PR squad is to be believed, it was a 'technical glitch' that caused the Insta page to go kaput for a short while. Hmmm… Interestingly, we are reminded of her hubby Nick Jonas' song A little bit longer…
Published in Dawn, ICON, July 3rd, 2022