Wise in Hindsight 
It seems that in Dr Aamir Liaquat's death some of our celebs have a learnt a lesson or two. Mishi Khan apologised in a video message for offering to facilitate his departure from the country when he intended to do so and Ushna Shah's social media message was that we all feel guilty and "this will haunt me for years". Aamir Liaquat may have made many mistakes in his life, as we all do, because, after all, we're all human beings and human beings are prone to err. But there's always a danger in publicly denouncing someone — situations in life change rapidly, and when that happens public denouncements come across as ungainly, unwise rants. Still, better late than never.
Eid Films
Recently, trailer launches for two Pakistani films — Quaid-i-Azam Zindabad and London Nahin Jaunga directed by Nabeel Qureshi and Nadeem Baig, respectively — to be released on Eid-ul-Azha have rekindled moviegoers excitement for stepping into cinema halls and watch movies made in their own country. Another project Lafangey helmed by Abdull Khaaliq Khan and a Hollywood big gun Thor: Love & Thunder are also slated to see the light of day in the same holiday season. So, it's going to be an interesting four-horse race; and we all know who's going to win.
Heart Talk
Dimpled doll Deepika Padukone is these days busy shooting in Hyderabad for an upcoming film Project K alongside Amitabh Bachchan. Last week, while recording a scene, she felt unwell as her, reportedly, heart rate increased. She was immediately taken to a nearby hospital where after a couple of hours of treatment she returned to the film set, hale and hearty. To be honest, at the age of 36, it's a bit unusual for a person to have cardiac issues. That being said, showbiz can be pretty stressful. Best wishes for the actress. Stay healthy Deepika P.
Together or Not?
Rumour has it that Sidharth Malhotra and Kiara Advani, who have been going out ever since they worked together in Shershaah, have split. However, Kiara A is not in the mood for confirming or denying it. Instead, she's hurling questions back at journos, "Who the mirchi masala waale sources are?" following up with the pearl of wisdom that "one has to turn a blind eye to the rumours and develop a thick skin because at the end of the day she wants her work to speak." Well, girl, guess what, your work is speaking and allowing others to speak.
Nine-Year Hiatus
Nine years ago, Liam Payne (ex One Direction member) and his longtime girlfriend Danielle Peazer (former X-Factor dancer) broke up. It was a huge deal for the media because they were one of the most celebrated couples. After that, the singer went out with a few gals, and in fact got engaged to actress Maya Henry twice — yes, twice — last month on the second occasion. News is that he's back with Danielle P as on June 12 both were seen in a car after attending the Soccer Aid Aftershow Bash in London, and she even tried to hide her face from the paparazzi. She shouldn't have: she had the X-Factor with her.
Keep Mum, Please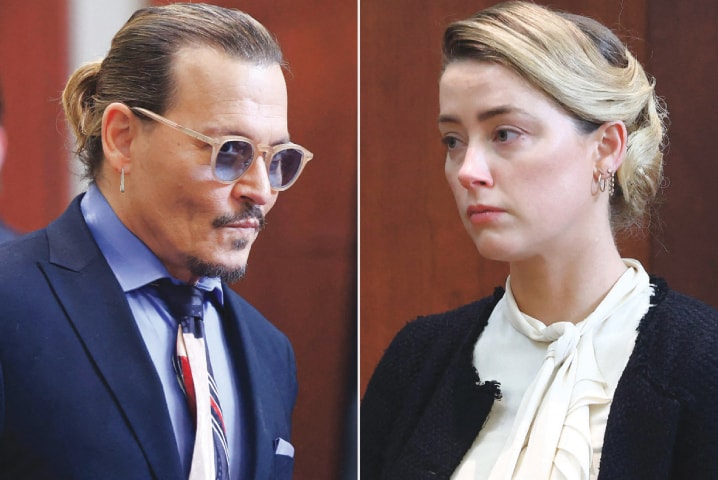 Someone needs to tell Amber Heard to lay low, go under the radar and move on in her life. Her interview to an American TV channel where she kept repeating her side of the story that Johnny Depp was the aggressor when they were married, and that the jury in the defamation trial got swayed by social media is further damaging her reputation as a human being. Immediately after the interview went on air, a male juror (on condition of anonymity) talked with ABC News and responded to her assertions in the following words: "The crying, the facial expressions she had, the staring at the jury, all of us were very uncomfortable. She would answer one question and she would be crying and two seconds later, she would turn ice cold. Some of us used the expression 'crocodile tears'… A lot of the jury felt what he [Depp] was saying at the end of the day was more believable." There you go: the jury is out, one more time!
Published in Dawn, ICON, June 26th, 2022