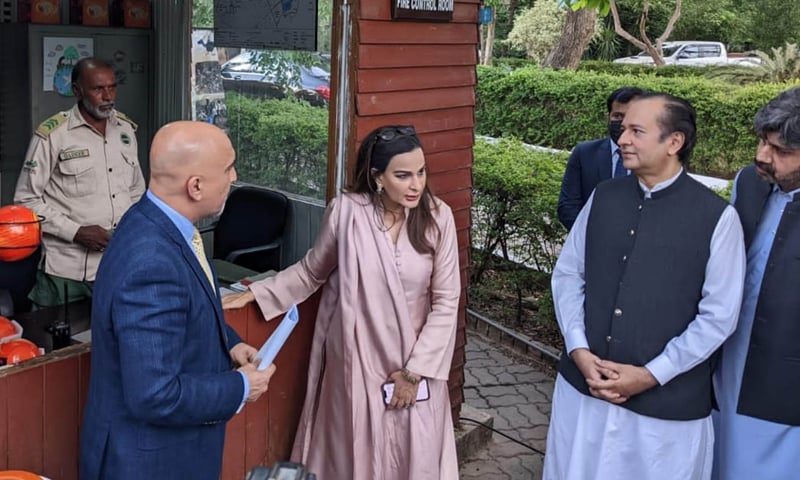 ISLAMABAD: Citizens can now call a control room with a dedicated phone line to report incidents of fire in the Margalla Hills National Park.
Minister for Climate Change Sherry Rehman on Thursday visited the control room established at the Wildlife Centre (old Marghazar Zoo) to monitor forest fires in the national park. The control room will be operational round the clock.
In a press briefing after the visit, the minister said the helpline was set up for people to assist the government to check forest fires. "Action will be taken against culprits who start forest fires," she said.
The control room was set up after two incidents of fire involving a model off the Hazara Motorway. The other incident involving a man setting fire to the forest with lighters took place in near Abbottabad in Khyber Pukthunkwa. A case has been registered against him.
Ms Rehman warned of zero tolerance and strict legal action against individuals setting fires to either clear areas or to garbage.
The briefing was informed that some 60 staff members of Islamabad Wildlife Management Board (IWMB) and nearly 636 staff of Capital Development Authority had been dedicated to prevent and fight fires. Every year, forest fires destroy plantation and wildlife in the MHNP during the summer season from April to June.
Joint Secretary Ministry of Climate Change Syed Mujtaba said: "The dedicated staff is manning 36 pickets to monitor fires. Fires are common in MHNP. Most of them are started by people without realising the consequences to the natural environment. However, compared to last year forest fires have been less this year so far. The response to fight fire is better too after enhanced cooperation between the concerned departments."
Capital Development Authority (CDA) Chairman Amer Ali Ahmed spoke about better cooperation between the ministry, IWMB and his office.
"Setting fires in forests is a crime. Glamorising it is an even bigger offence punishable under law. This summer season is comparatively warmer and the risk of fire greater. We urge citizens to report such incidents as their duty to protect natural environments," Mr Ahmed said.
Government officials also urged citizens to conserve water and avoid wasting the precious resource. They encouraged rainwater harvesting.
The speakers also requested residents of Islamabad to say no to single-use plastic bags and to substitute shoppers with bags made from cloth and other materials to carry their groceries.
Meanwhile, following a backlash on social media and condemnation in media on a video posted by her this week, TikToker Dolly issued a clarification saying people were not aware of the "reality".
Nosheen Saeed, popularly known as Dolly on her social media platforms, posted a clip of herself on TikTok walking playfully in a silver ball gown with a burning hillside as the backdrop.
As it was widely presumed that the video was shot in Margalla Hills, Dolly, who has more than 11 million followers on TikTok, was accused of conjuring up the flames for views and lambasted for being ignorant of the impact of such a fire on the environment. She clarified that she did not start the fire.
She released another video which showed a local man claiming to have set the fire to tall grass to kill snakes that endangered the lives of his children.
Published in Dawn, May 20th, 2022