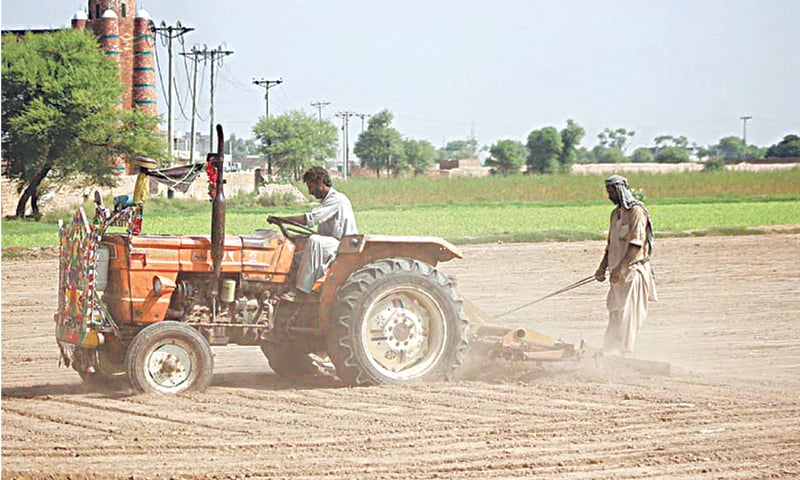 LAHORE: Pakistan's biggest agricultural machinery manufacturer on Friday suspended its operations due to a severe liquidity crunch.
Millat Tractors Ltd (MTL) informed the Pakistan Stock Exchange (PSX) and all relevant federal ministries that the entire tractor manufacturing industry is now facing a severe liquidity crunch as the industry's over Rs8 billion sales tax refunds are stuck with the Federal Board of Revenue (FBR) for the last two years.
"The industry is now making a loss on each unit it sells due to accumulating sales tax refunds, which is increasing at the rate of Rs150,000 — more than its profits — for each tractor it sells," says one of the industry leaders.
Dilating upon the details, he says that the industry pays 17 per cent sales tax to its vendors — from whom it purchases parts. It is allowed to pass on only 5pc sales tax to the buyers and the government is supposed to compensate the rest 12pc. This differential (which translates into Rs150,000 per piece) is accumulating and has touched Rs6bn for Millat Tractors Ltd alone. Practically speaking, it means that the factory is making losses on each unit it sells, thus leaving the manufacturer with no choice but to suspend operation and, at least, save itself from future losses, he says.
Over Rs6bn refunds pending with FBR for two years
The decision is not sudden, the industry has fought and won its cases in the appellate courts of tax authorities, the federal ombudsman, high courts and Supreme Court when the FBR tried to delay payment on the excuse of agriculture and non-agricultural sales, says Malik Aftab, a vendor and trader of second-hand tractors.
With MTL opting out, the market would suffer a loss of 3,000 machines per month — last year it sold 35,000 tractors and was aiming 44,000 this year. This would quickly increase the prices of tractors as the psychological loss to the market is always more than the mathematical one. The issue must be resolved quickly because it can spread to other manufacturers and sent shock waves to the market, he warns.
Published in Dawn, March 5th, 2022
Now you can follow Dawn Business on Twitter, LinkedIn, Instagram and Facebook for insights on business, finance and tech from Pakistan and across the world.