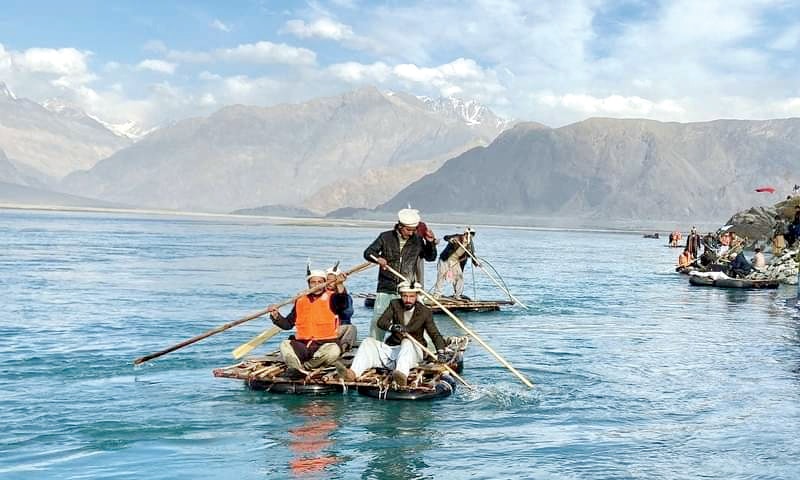 GILGIT: A two-day traditional Zakh (raft) rally aimed to promote winter tourism and revive the tradition of travelling through water concluded in Skardu the other day.
A total of 22 teams comprising 88 members started their journey from Gulabpur area of Shigar and arrived in Sandus area of Skardu on Tuesday, travelling 70 kilometres distance through Shigar and Indus rivers.
The Zakh tradition was set by the residents of Shigar as they used the traditional rafts to travel through the Shigar and Indus rivers.
In ancient times, Zakh also remained a source of crossing rivers in the region when there were no roads and bridges.
Each team comprising four people, including the boatman, holding national flags and singing national and traditional songs travelled through the rivers amid freezing temperatures.
They had arrived near the central Shigar on Monday evening, where they stayed for the night.
On Tuesday morning, the teams started their journey and arrived in Sandus area of Skardu in the evening. The locals warmly received the participants of the rally, showering them with flower petals.
However, the participants of the rally were disappointed as the local administration did not arrange reception for them.
Javaid Shigri, one of the organisers of the event, said no administration official came to receive the participants despite the fact that the rally was meant to promote winter tourism in the region. He demanded of the government to encourage such events.
Zulfiqar Ali Shigri, another organiser, said the youth of Gulabpur village of Shigar had organised the event. "The Zakh rally was held to promote winter tourism and explore the old ways of travelling long distances through water by the indigenous people," he added.
Zakh is a traditional raft made of skin of animals and wooden sticks.
Published in Dawn, December 2nd, 2021