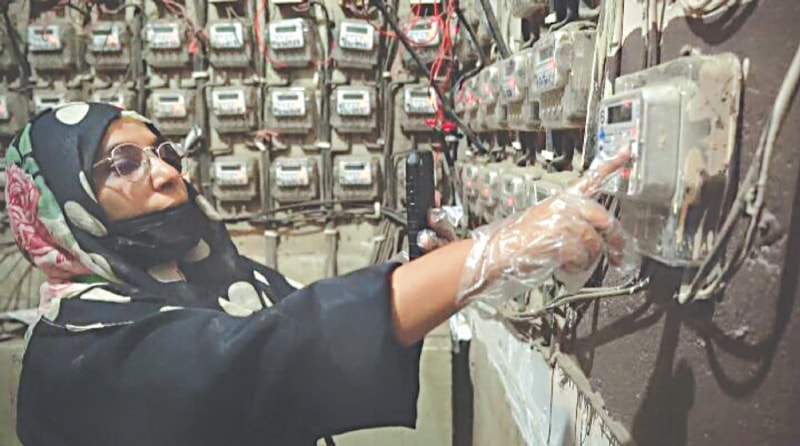 KARACHI: She enters a building, heads to the big wall near the entrance with all the electricity meters installed and gets right down to work. Putting on her plastic gloves, she brings out her cell phone. But first she wipes clean with her finger the dust off the screen so that the reading becomes clear for her to photograph. The picture will be printed on your electricity bill.
Meet K-Electric's female meter reader. She has been around for four years but is being noticed more now as there are several others like her joining the ranks.
Farzana Kausar was 39 when she joined the utility four years ago. 'Not possible', 'You won't be able to', 'It's not something females do' and 'What are people going to say?' ... She ignored all the negatives to embrace the positives, but only in life. If you speak to her about the positives and negatives at work, she would tell you that it has to do with current. "Current that enters the circuit is positive current and current that is moving away from the circuit is negative." That is it!
Farzana belongs to Lyari. "Four years ago, our first batch only had four females. I joined because I wanted to do something different," she told Dawn. "And I did not find any opposition from my people. Lyari is quite enlightened and supportive that way," she said.
A female meter reader from Lyari says she has been given motorcycle riding, self-defence training
About her training days, she informed that besides receiving training on how to do readings, she was also taught how to ride a motorcycle along with getting some training in martial arts and self-defence. "Well, at the time, there were several threats to KE personnel and I had to learn to defend myself in case of any untoward incident," she said, adding that that said, nothing like that ever happened to her.
"I am all set now. And seeing me do my work with so much ease and also earn a respectable livelihood has prompted more women to follow me," she said.
Forty-year-old Nazia Murad is another female meter reader working with the power utility. She was part of the second batch that included nine women.
"After my initial training, which lasted about one week, I went around different areas for meter readings with my seniors for a month. Now I am myself a senior and usually handling work on my own, unless we are taken along and guide a junior. We are taking readings for some 20 days after we are given a schedule from our IT department. Then we go area-wise. A group goes out together and then each reader is given an area to cover following which we regroup and leave," she said.
She said she is glad that the new meters are not placed that high. "At five feet, we can easily do readings but higher than that would be an issue," she said. "It is also better that the new meters have been installed outside homes. That way we don't have to disturb consumers to open gates or doors for us. Though they still come outside for a chat if they notice us and if they are facing some issues with their bills or anything," she said.
"But consumers are also pleasantly surprised to find a woman doing the meter reading. Some also inquire from us about the joining procedure. We tell them about the required qualifications, etc," she said, adding that she herself is a graduate and that there is also scope for advancement and promotions in her job.
Nazia said that the third batch of meter readers getting training from KE included four to five women and the most recent fourth batch had as many as 11 women. They are all stationed at various centres in Lyari, Korangi, Landhi, Gulistan-i-Jauhar, Surjani Town, Malir, she said.
Going a step further, the power utility, recently, also started a programme, 'Roshni Baji', who are raising awareness about general safety, electrical safety, rain safety, power theft hazards and energy conservation within communities. These women are said to be Pakistan's first certified women electricians. KE has also inducted five women grid operating officers to take on more challenging roles in the transmission of power.
Published in Dawn, November 23rd, 2021