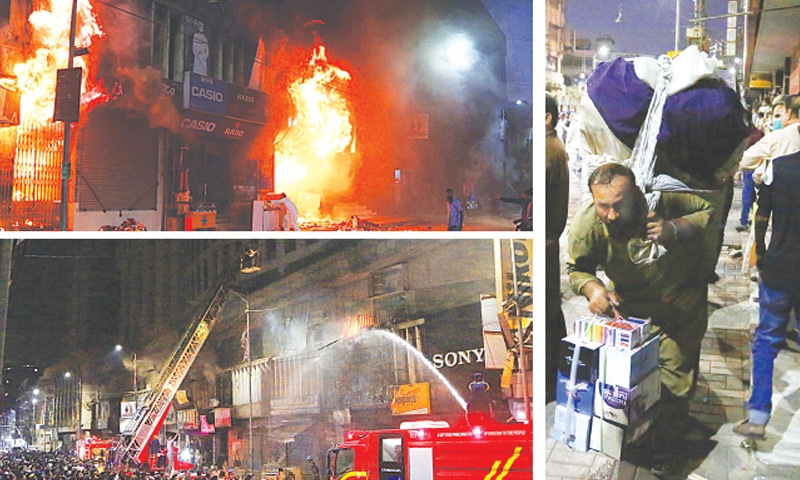 KARACHI: Around 35 shops in the Saddar Cooperative Market were gutted when a huge fire broke out on Sunday, according to officials and witnesses.
They said the fire erupted in a shop located on the ground floor and it rapidly spread to the first floor. The fire engulfed several cloths and other items shops, but no one was hurt in the incident as the famous market was closed on account of weekend.
Commissioner of Karachi Iqbal Memon told Dawn that the blaze started around 6.45pm and he reached there in 10 minutes to supervise the whole operation. "It's a cloths market and the fire reached third category within a few minutes," he said.
He said that he called the Karachi Metropolitan Cor­poration to send more fire engines as initially there were only a few.
Mr Memon said that realising the gravity of the situation he also spoke to officials of Pakistan Navy and Karachi Port Trust to send more fire engines to put out the fire.
The officials of the Karachi Water and Sew­erage Board were directed to send more bowsers while the DIG-traffic was asked to divert the traffic.
"Within one hour, fire was under control," claimed the commissioner. However, the 'cooling work' continued till late in the night.
He said that there were estimated to be over 300 shops in the market and the fire staff reported that about 35 shops caught fire and suffered damages.
The exact cause of the fire and estimation of financial loss could not be made immediately.
DIG-South Javed Akbar Riaz said that as the blaze was categorised as a third-degree fire, the police cordoned off the Cooperative Market in Saddar to prevent theft or damage to property.
He said that no one was hurt in the fire. He also said that the cause of the fire was not known yet.
Preedy SHO Sajjad Khan said that around 18-20 fire engines belonging to the fire brigade department of the KMC and other institutions managed to control the blaze.
Some shopkeepers alle­ged that the fire engines reached the scene about one-hour late.
Published in Dawn, November 15th, 2021